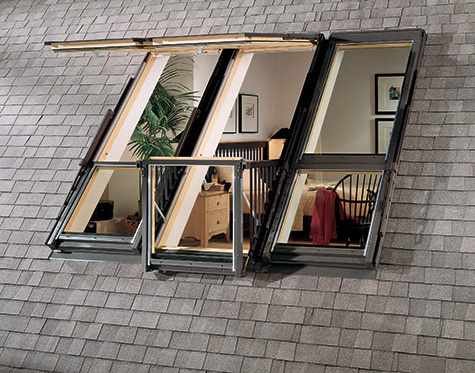 Velux's roof terrace system is truly the stuff that home owner's and architects' dreams are made of – light, space, breezes… So take a basic skylight, wonderful in their own ability to bring light to dark spaces and even breezes if you choose to make them operable. Now add a genius side rail system that allows you to actually step outside and you're lucky enough to have a Velux roof terrace or balcony.
If you have a dark attic loft or want to build out an attic space, Velux's system give you a unique opportunity to visually enlarge your space without expanding your building foot print.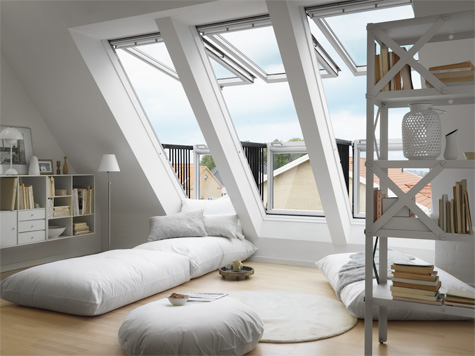 The units are comprised of two windows. First open the upper window up toward the sky, and then push the lower window out. Doing so automatically raises the integral railings on both sides of the lower window, so that you can step out safely and securely.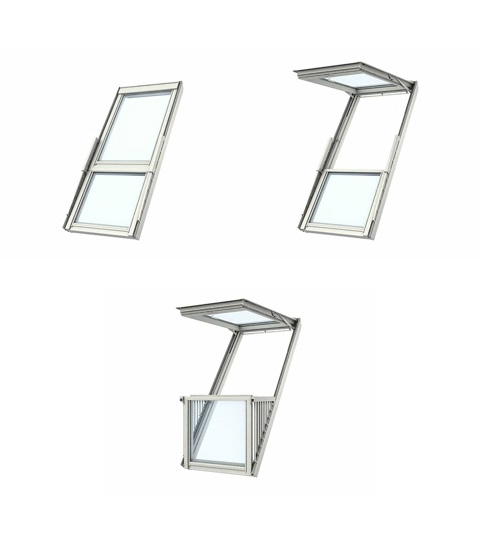 Options within the windows are enlightening too. The GDL Balcony gives you individual terraces and unencumbered views through the top window's 45 degree opening. Combine units from the Roof Terrace system to create a terrace width that's only impeded by your building's structure. Select left or right opening lower windows that twist in their frame for easy cleaning. It seems the brightest ideas originate in limitations.