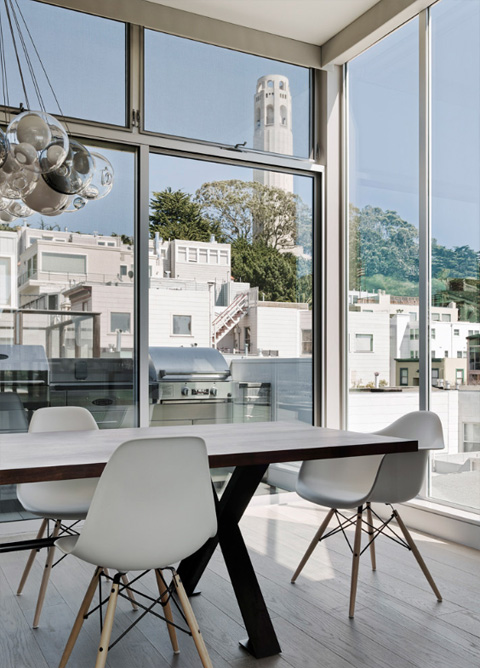 Perched atop a formerly non-descript structure in San Francisco, this creative renovation has resulted in a stunning "jewel box" in Telegraph Hill. Many buildings in San Francisco originally consisted of a series of narrow, chopped up interior rooms. Bringing light into these spaces can be challenging because they are flush against other buildings, allowing only natural light from the front and rear. The design approach of this project by Feldman Architecture was to re-invent both the exterior and interior with new materials and open spaces. Another great feature of this home was the potential for million dollar views of the Golden Gate Bridge, Coit Tower and sweeping views of the downtown skyline.
The exterior was brought up to modern standards using gray limestone cladding materials and deep metal frames around the windows and garage door. The color selection of taupe/gray walls and dark metal creates a quiet contrast, with the repeating pattern of rectangular shapes in both windows and garage door.
This home was designed for clients who love to entertain. In the kitchen, the team of architect and kitchen designer have cleverly created extra deep drawers to hide appliances and dishes when not needed, as well as maintaining the clean aesthetic the clients requested.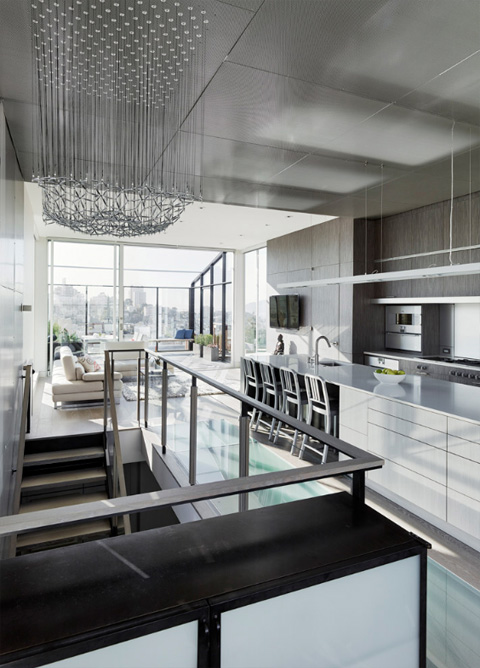 Upstairs, the entire floor was enlarged to create a great room with windows on three sides. The deck outside the great room offers sweeping views of the San Francisco skyline.
Plantings were supplied by Flora Grubb Gardens, an iconic landscape design firm that is known for creating high-style vertical gardens that are water-wise and can withstand the unrelenting winds from the Pacific Ocean.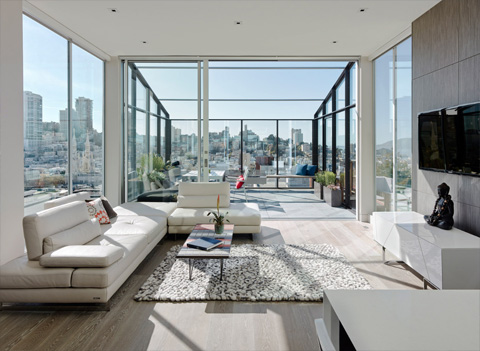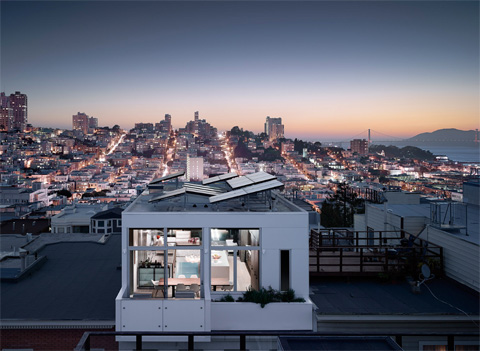 Architects: Feldman Architecture
Contractor: Matarozzi Pelsinger Builders
Interior Design: Lisa Lougee Interiors
Lighting Design: Kim Cladas Lighting
Structural Engineer: Strandberg Engineering
Metal Fabrication: Chris French Metal
Landscape Design: Clarke de Mornay at Flora Grubb Gardens
Photography: Joe Fletcher, courtesy of Feldman Architecture.