Set in Lviv, Ukraine, this tiny apartment delivers a living space coming in at just under 430 square feet, and was redesigned by the expert team of Roma Verbishchuk, Yulianna Verba and Lyubov Lazoriv …a dynamic trio who expertly recreated this micro-home into a deceptively spacious and efficient dwelling.
Making use of every corner and crevice, the design elements that were infiltrated into these quant quarters trumped what one would have thought possible within these four walls.
The bathroom delivers beautifully patterned grey and white tiles, a weighty pine vanity, and also offers a washer and dryer combo to maximize this "cleaning space".
Around the corner and up a step or two, the bedroom is a raised sleeping space partitioned by glass and is tucked away nicely, offering floor to ceiling closet space for optimal storage and safekeeping of any fashions du jour.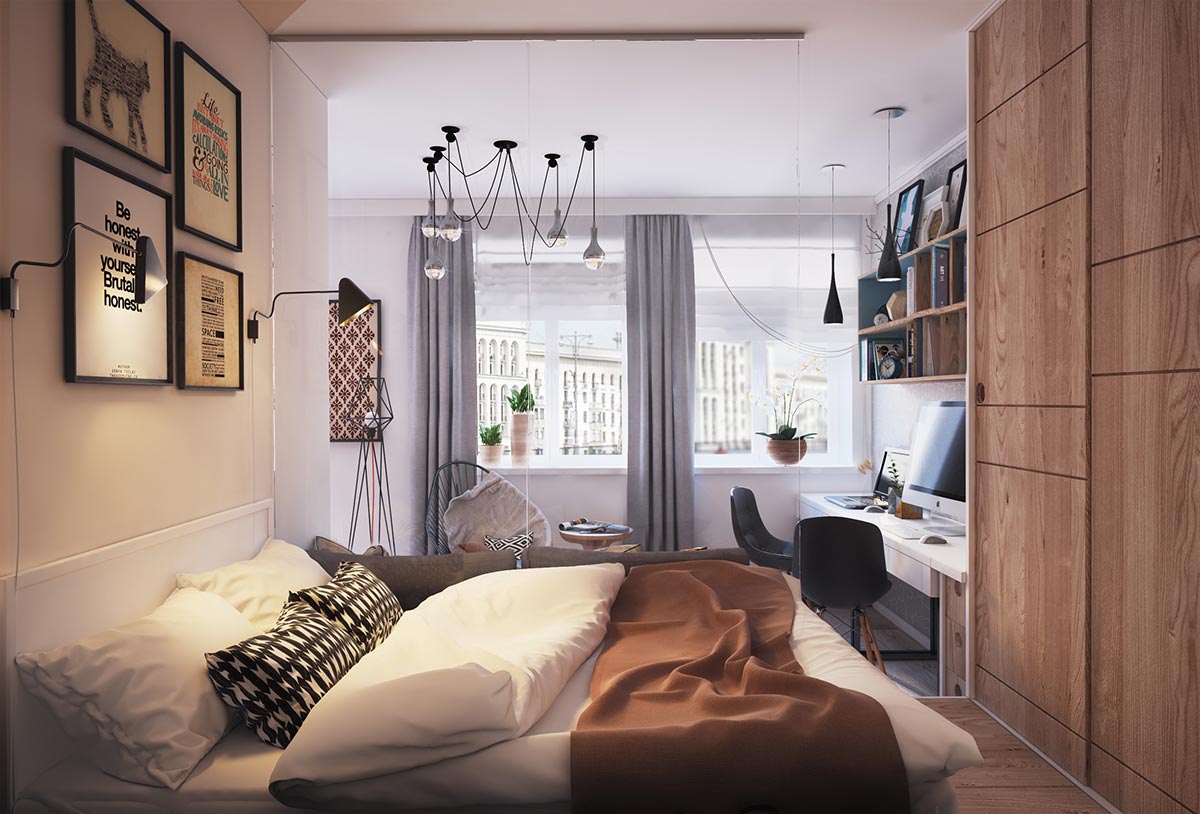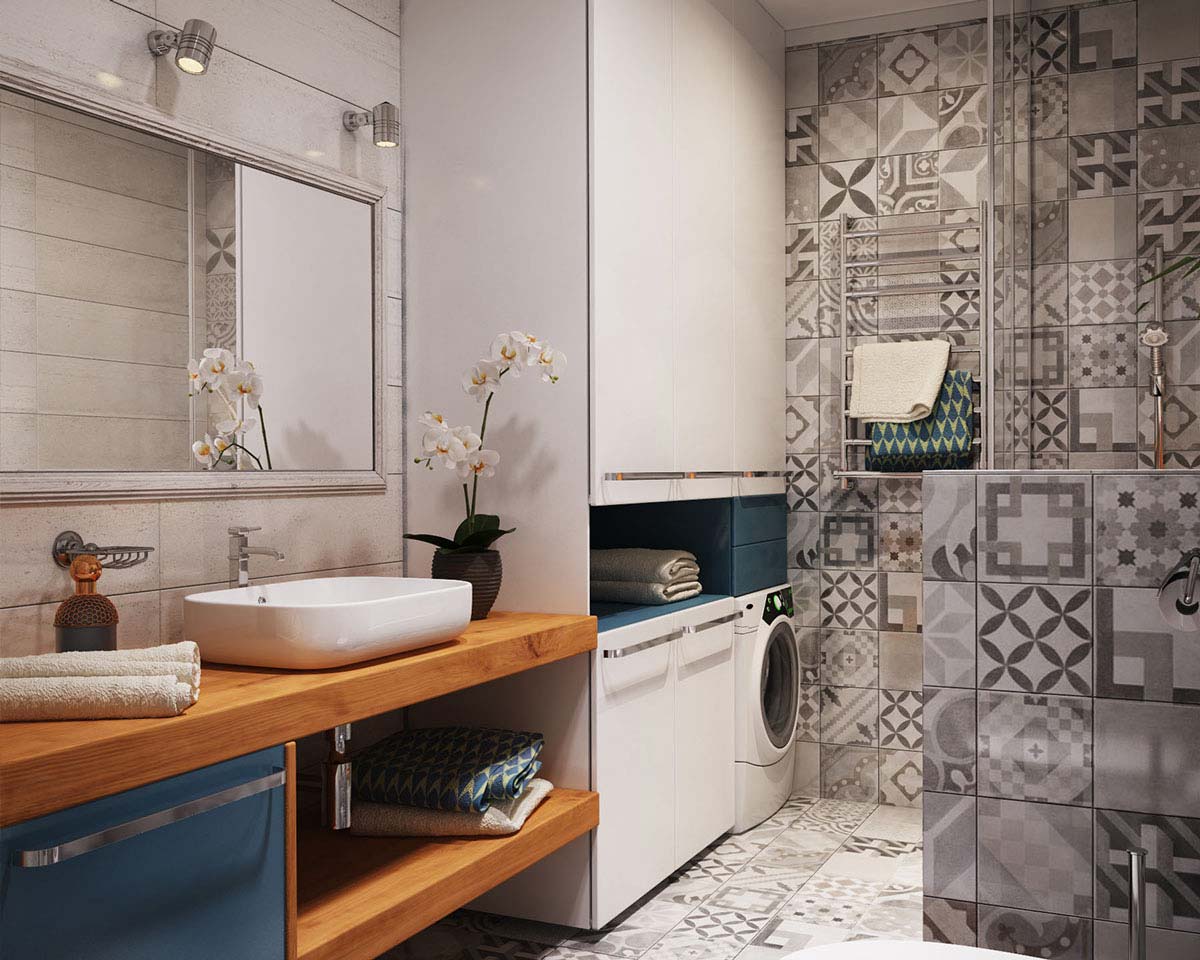 One partition wall and a living room over, the kitchen space has been maximized upon as well, taking up an entire wall with kitchen essentials. All nestled together and backed by a colorful mosaic backsplash, white countertop, light wood cupboards on the lower portion, and white ceiling high cupboards on the top portion; these stacking efforts are equal parts stylish and organized.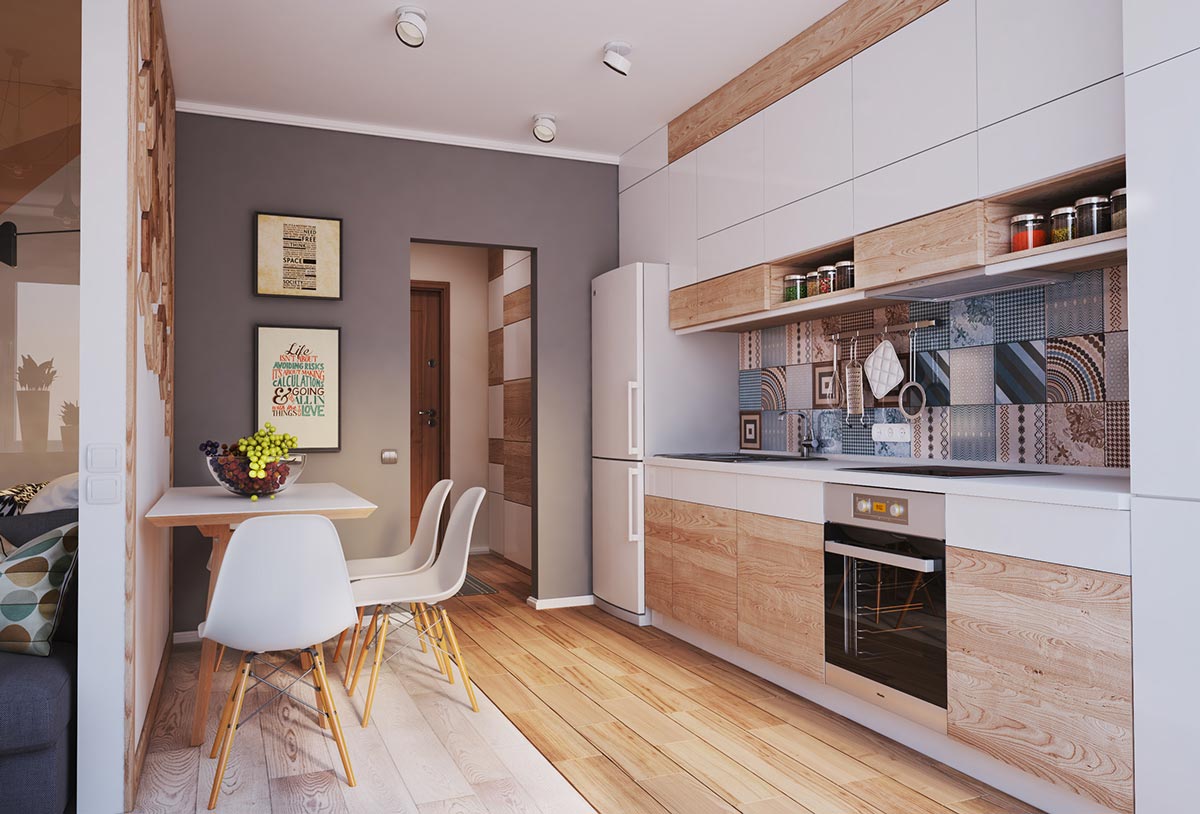 Despite the minimal square footage, there is a living room – slash – office sandwiched nicely between the kitchen and bedroom. Delivering the ever-popular Edison lights, an office desk that lines the wall, and large windows for plenty of natural light. It is the perfect place to study and relax without even a hint of spatial limitations.
The grey, white and wood tones consistent throughout this apartment offers a temperate tone, with each room providing a splash of colors, patterns and textures, breaking up this tiny apartment without infringing on the continuity of this minimized space with maximized style.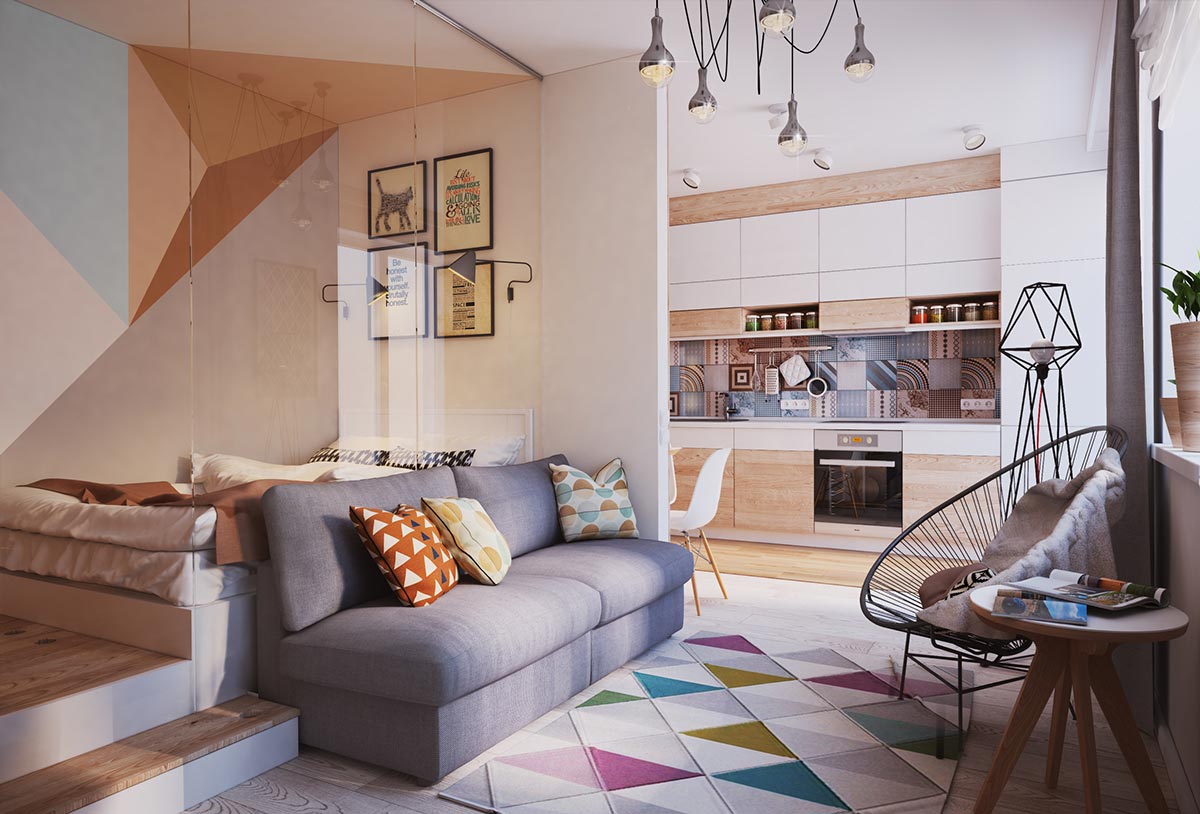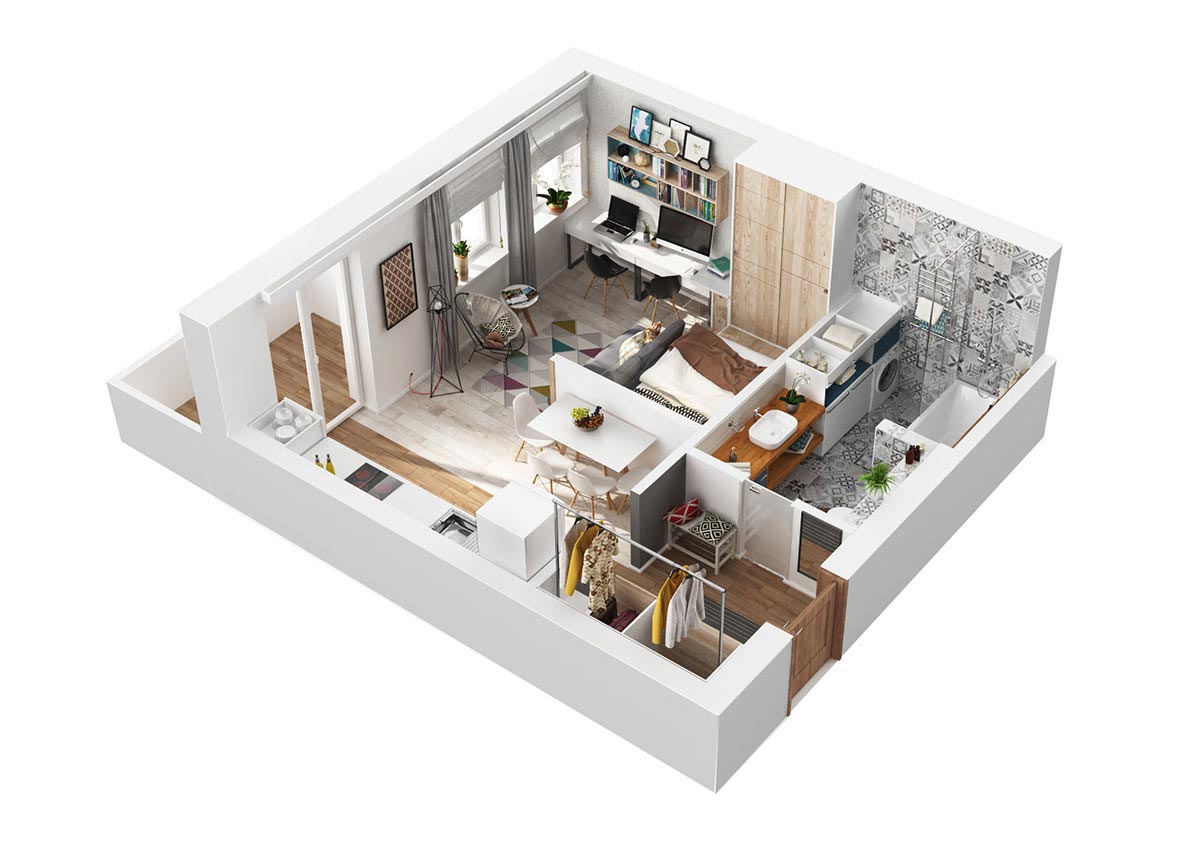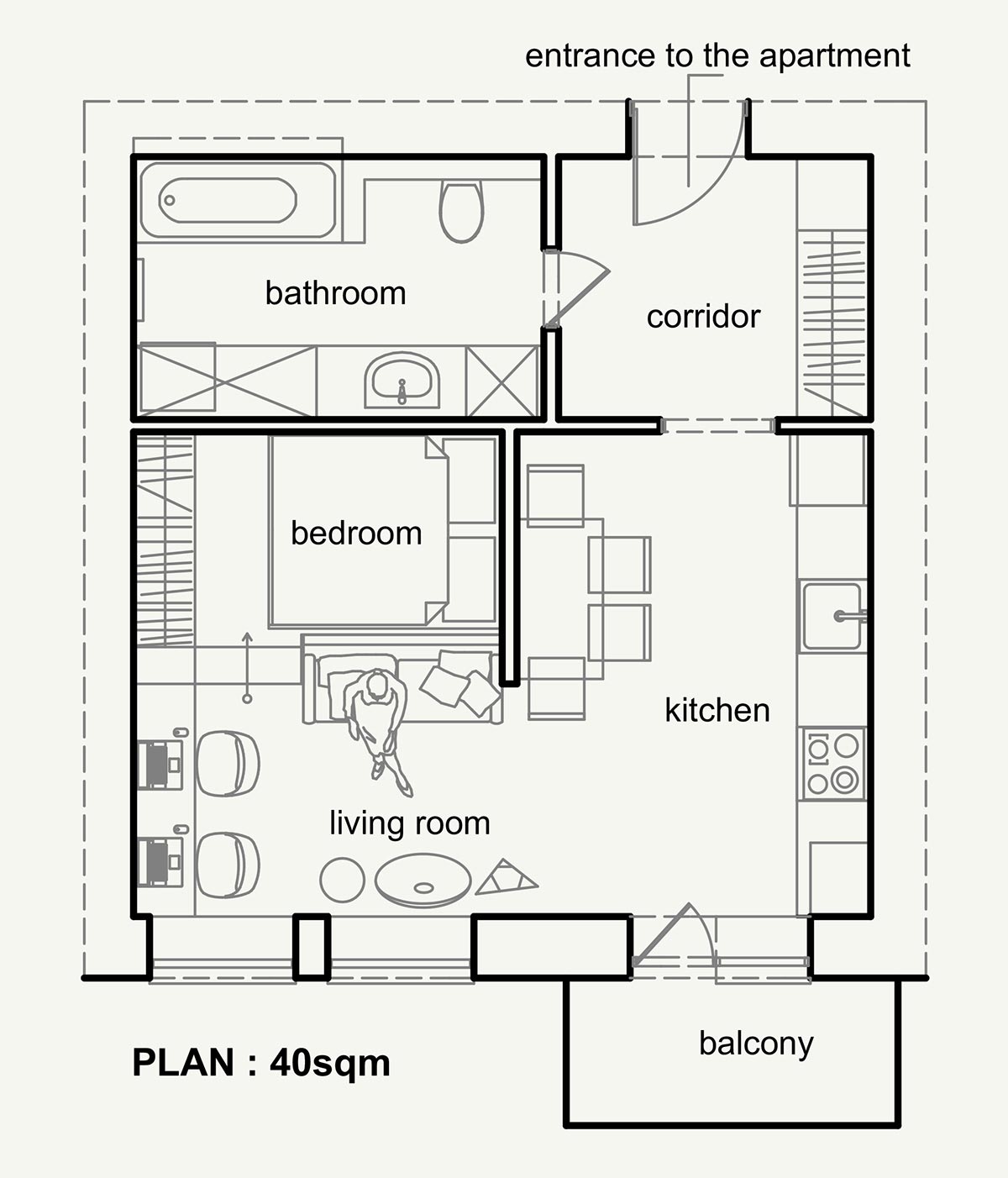 Design: Roma Verbishchuk, Yulianna Verba and Lyubov Lazoriv
Photography courtesy of Roma Verbishchuk, Yulianna Verba and Lyubov Lazoriv