Les Ensembliers took 3 apartments within the Redpath Lofts in Montreal's Sud-ouest district, near the Lachine Canal, and designed this space into a three-floor, 6,000 square-foot spectacular space – to say the least!
With Maxime Vandal delivering his award-winning architectural skills, and interior designer – Richard Ouellette adding to them, Les Ensembliers is Quebec's go-to for the combined efforts of architecture, interior design and construction. Taking this trio of perfectly tuned skillsets, they redesigned this palace into pure elegance, wrapped in distinct taste, and defined the personality of the owner to a "t".
Wishing to emphasize the industrial nature of this former sugar refinery, while still harnessing a livable space that embodied beauty, Les Ensembliers set to work with textures, colors and tones that delivered artistic luxury in such a sweeping space, leaving out any notion as to the complexity of adjoining so many individual spaces into one coherent unit.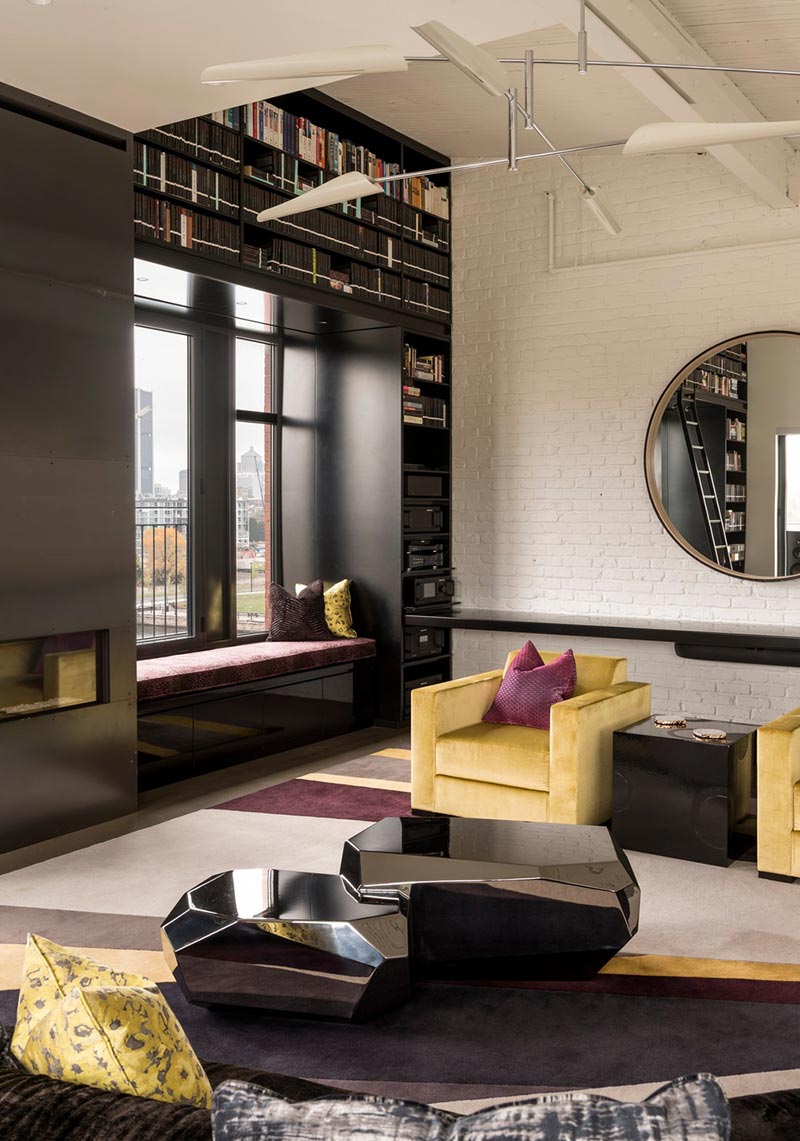 Taking the vertical opulence of the central opening, you walk into a breathtaking atrium linking the three first floors, with the 4th floor hosting a children's area, and the space between the 4th and 5th floor offering a walkway bridging the living room and guest room.
The dining room delivers a stunning steel fireplace, high ceiling, a large oval table, oversized windows, and simple hanging lighting fixtures. While, the kitchen offers a minimalistic approach with three different islands, and the storage and appliances concealed beautifully behind varnished walls.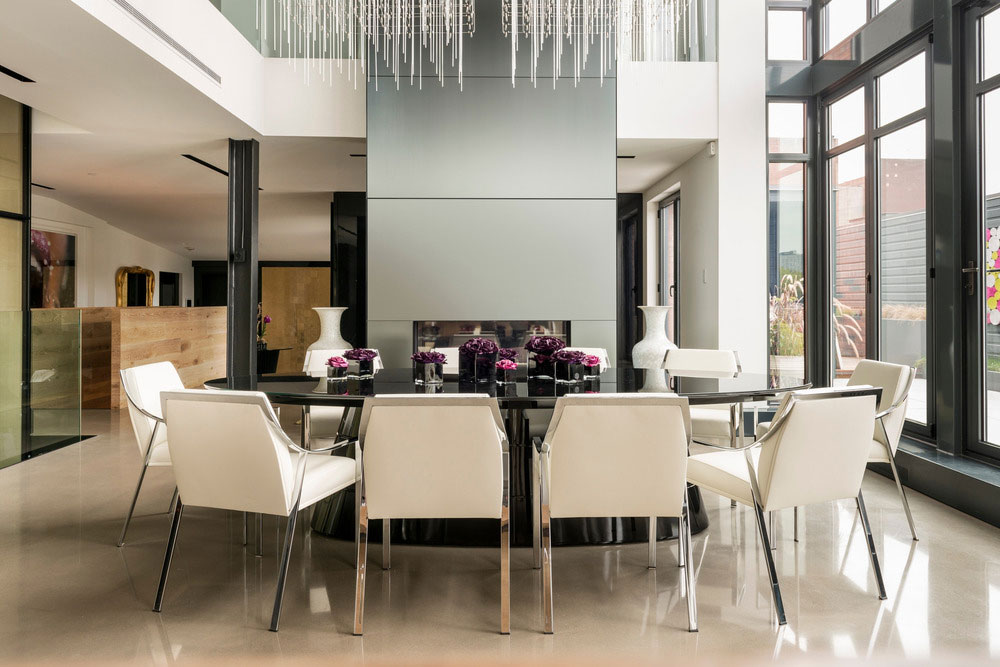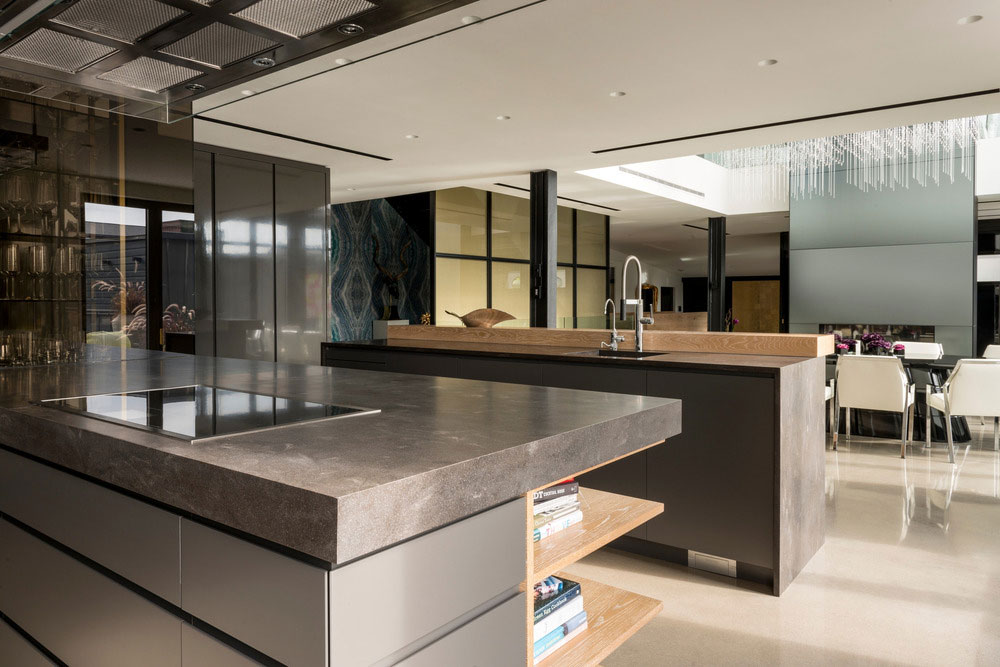 The master bedroom boasts of two low wood walls framing the stairs and creating a cozy entrance, where – upon entering, simple comforts filled with warm colors and soft surfaces fill the room. A space wrapped in turquoise silk walls, embellished by a Verona marble fireplace and comfortable velvet crescent-moon loveseat.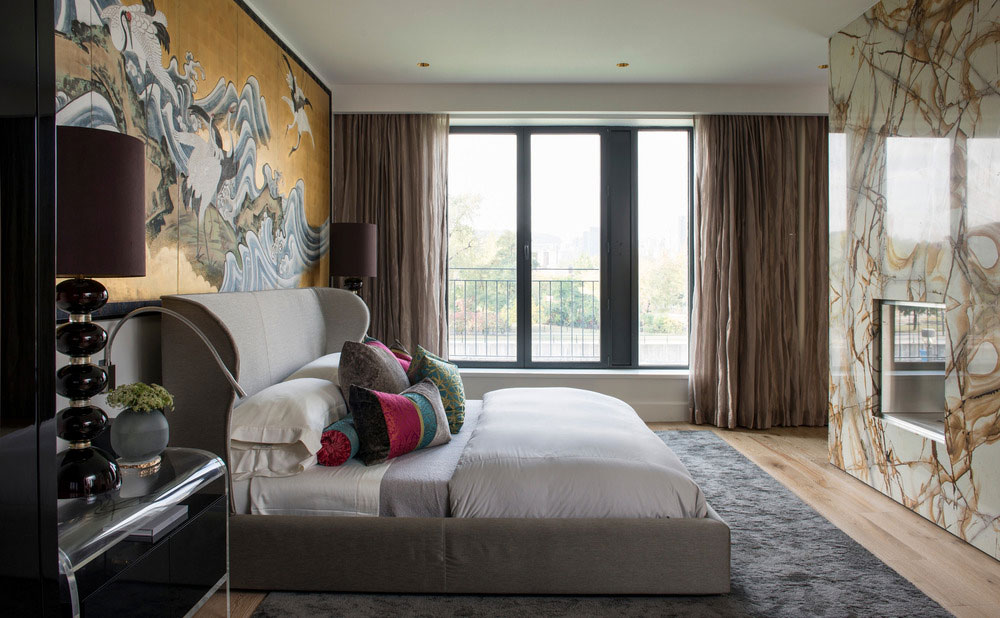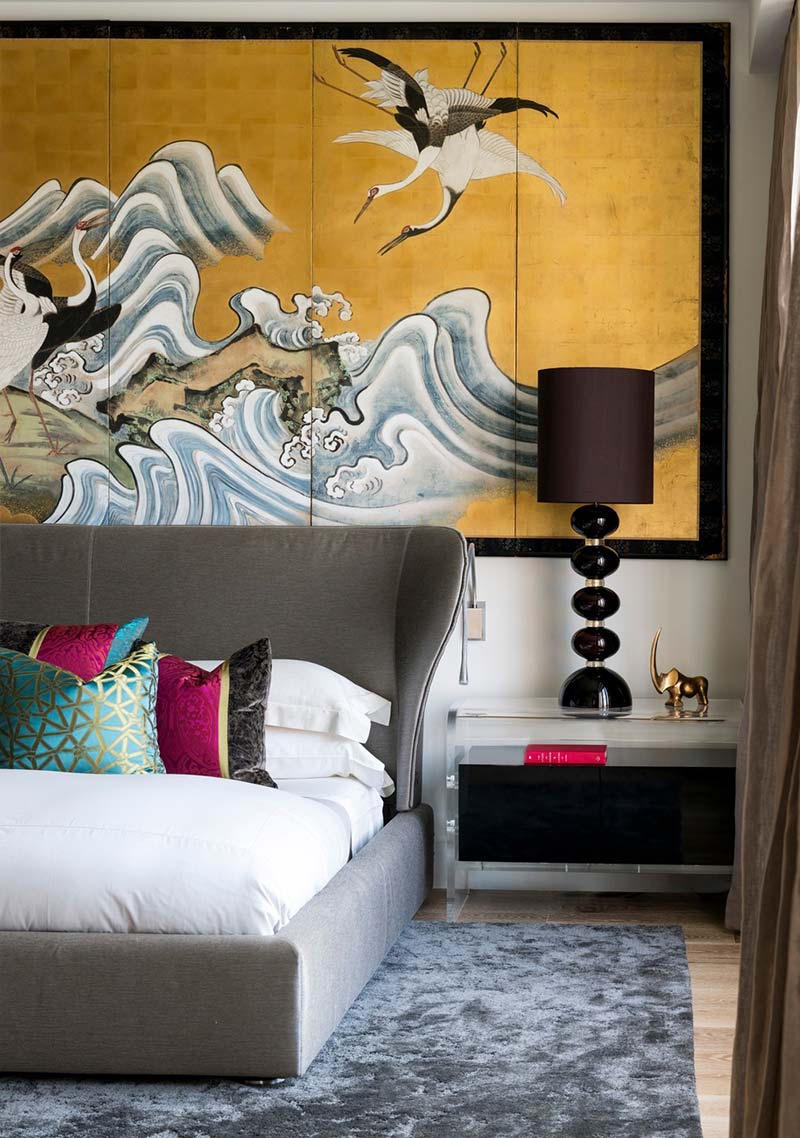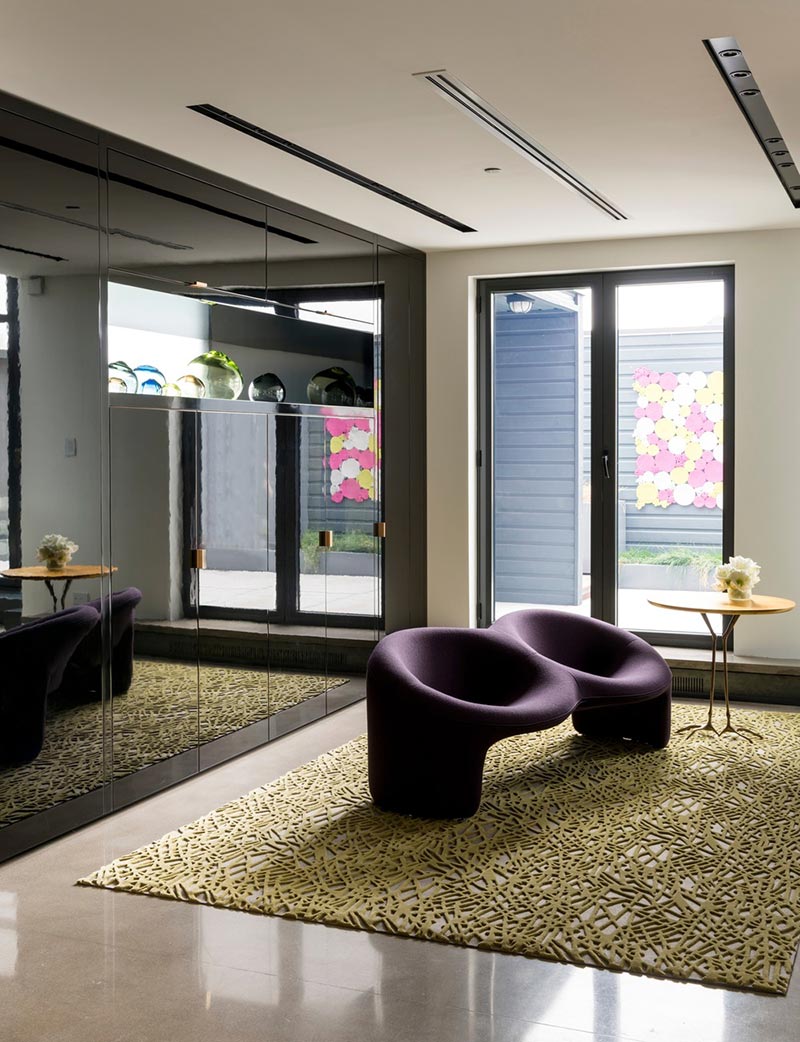 This vast space delivers charm coupled with industrial character and luxurious urban comfort. Alternating materials comprised of steel, polished concrete, silk, glass, velvet, and silk-covered metal curtains are just a few of the visual wonders, and this Custom Industrial Chic Renovation truly holds nothing back in it's bold redesign and lasting results!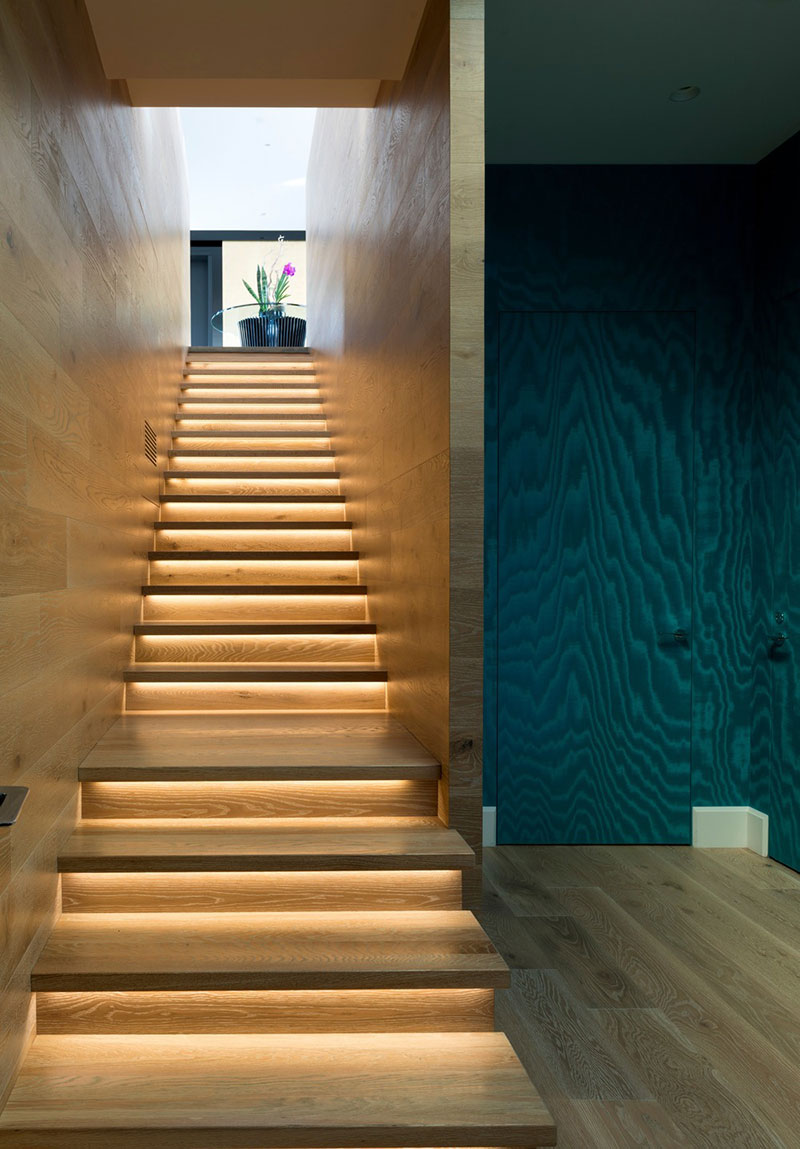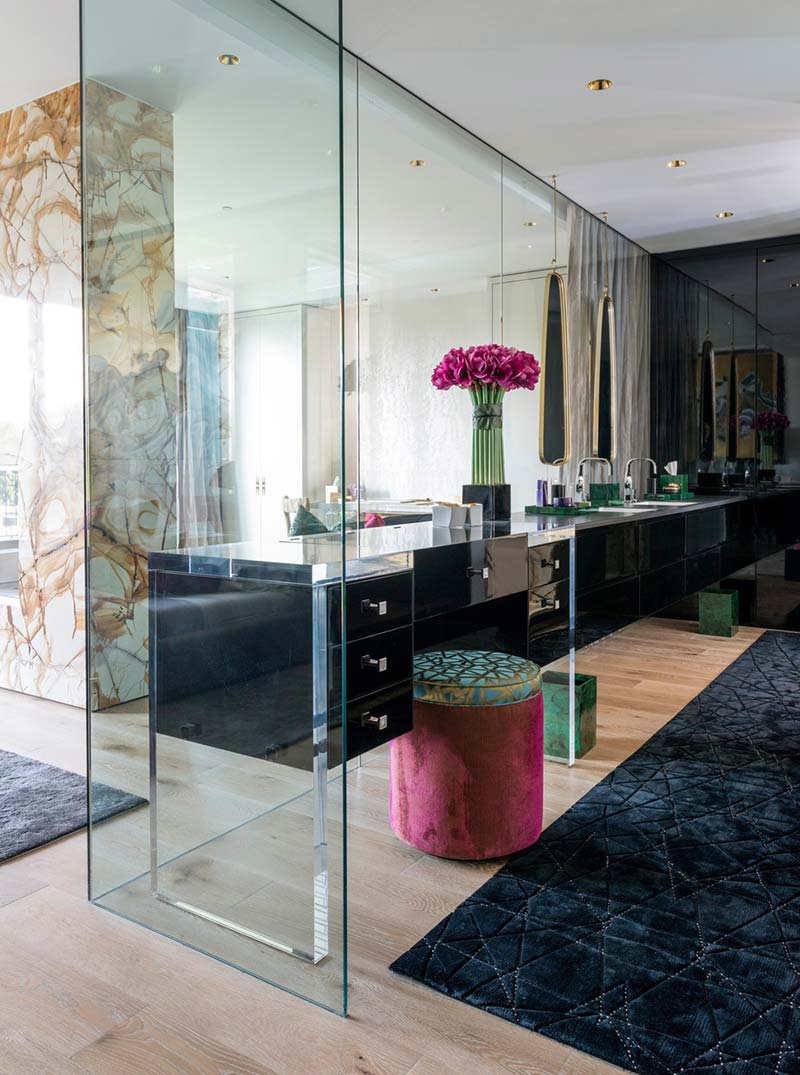 Architects: Les Ensembliers
Photography: André Rider