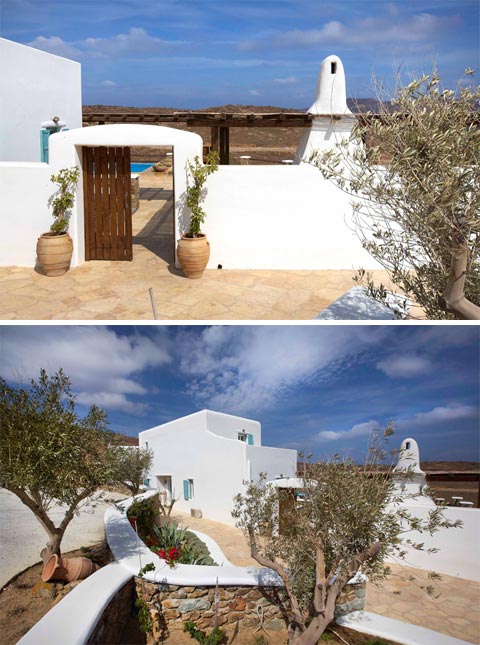 When you look at the images of this home, you can tell it's a Greek seaside home by its thick rounded edge white-washed walls, all curvy and soft, and that distinguishable white and blue color palette. It's all bright, airy and light, balanced out with some strong rustic accents. But then there's an interesting twist in the decor – a sort of elegant french country flair.
I mean, look at the dining room set and the chandelier that sits above them? How about the kitchen cupboards or some of the chairs in the living room and bedroom? Their style contrast fits because the characteristics of these items play well with the color scheme and the soft curves of the interior design. It's an interesting mix of styles you don't see that often and it's done really well.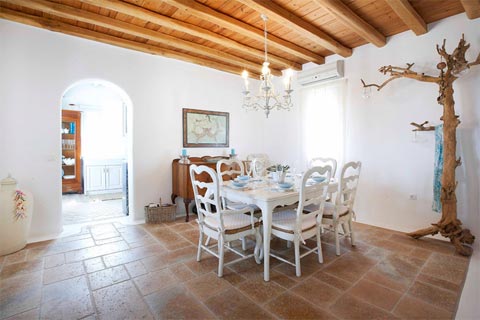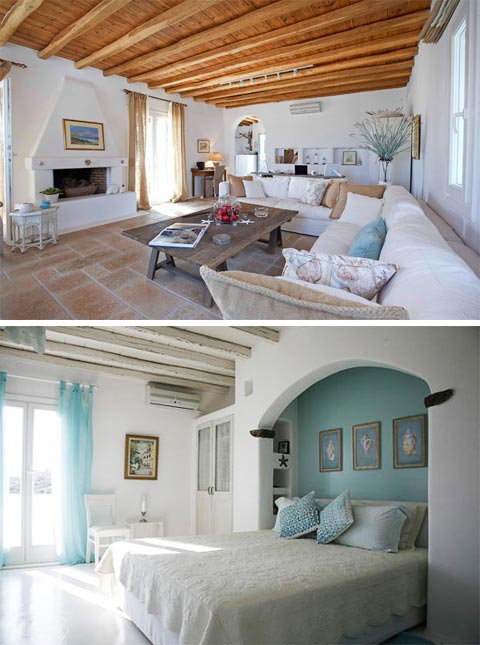 This Cycladic villa in Mykonos belongs to the Makris family. They also rent out the other villas on their compound to travelers and vacationers. The owners worked hard to make this home the way it is by working with stone masons, plasterers, bricklayers and even junk dealers.
For example, those beautiful wooden doors you see in the living room, which serve to conceal the entertainment system, were a junk find. A local carpenter restored and altered them to fit the space. Another special feature are the tile finishings. The mosaics in the bathroom are Moroccan and the flooring tiles are from are from a quarry in Northern Greece, which they laid in a traditional Byzantine pattern. This house has lots of special and authentic details, which together, give it its original, honest feel.