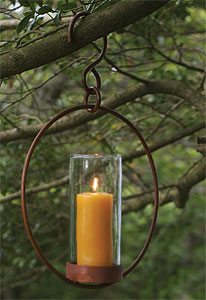 I love this candle holder by domestic connoisseur, Katie Brown. From the "Keep It Simple!" collection, the Hanging Hoop Candle Holder is aesthetically designed to brighten your garden trees for a warm elegant look.
When you're in the mood for outside entertaining, hang this chic candle holder and place a scented candle inside for an inviting atmosphere. Not to worry, the glass sleeve will keep your candle from blowing out in case of a late night breeze.
This beautiful candle holder include a glass wind sleeve and a 16-inch diameter hook for hanging; use it with votive candles, wide tapers or pillar candles up to 3-inch diameter.
Buy This Item