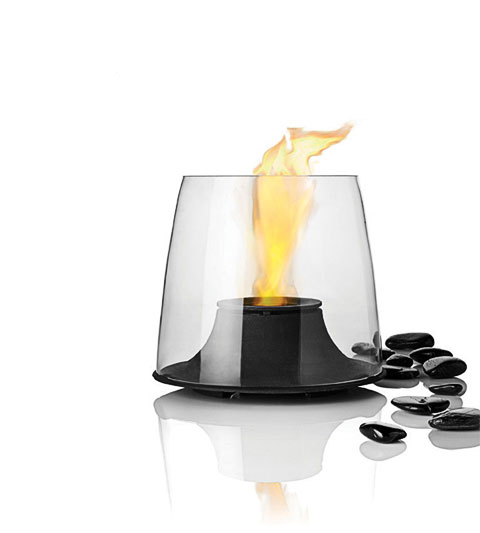 The Danish do it better. Fact. When it comes to furniture and product design, they have a distinct, unforgettable way of doing it, wouldn't you agree? Now let's take the charming duo of Sebastian Holmback and Ulrik Nordentoft, who met at the Danish Design school. They formed the company HolmbackNordentoft – cleverly and simply combining their surnames – 10 years after their graduation.
Well, some things take time, especially good things. Other than combining their names, the Danish duo mainly combine their fabulous sense of aesthetics, while working in a wide range of design areas like interior design, furniture and lighting. From their range of products, today the spotlight is shown on a source of light itself: the Fuego Bio Firelight, designed for and available via Shelton, a company we love to love here.
Glass and cast iron in black color form the elegant nest for a fire to warm your summer evenings whether at your porch, garden or at the beach. Burning on bio ethanol, it will seduce you with its magical, dancing flame, which can last up to 4 hours. Does it remind you of a volcano mouth like it does me? Having just returned from a trip to a Canarian volcano island, I couldn't but make the connection.
Measuring 22, 8 cm high and having a diameter of 23,2 cm, its gentle glass curves will protect the flame from any kind of wind, ensuring that lovely light keeps you company all night long, while you are enjoying your favorite glass of wine, warming your shoulders with that light woolen blanket.
For your own home or for offering it as a gift, Fuego Bio fire light will turn itself into a central point bringing friends together around it, only to witness the sharing of many stories and the sound of happy laughs. I'm tempted to use one in our winter garden, now that we have entered fall (in this central European part of the world)… I can't think of a better way to warm up rainy evenings than by watching its playful, warm light…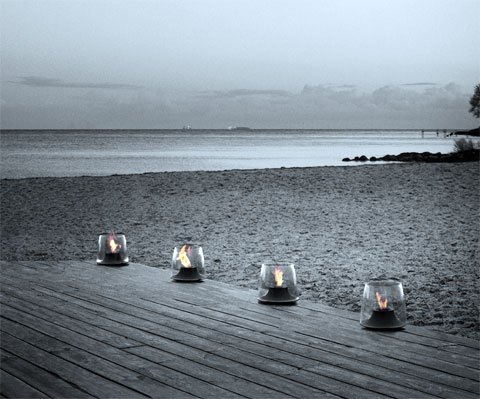 Buy This Item