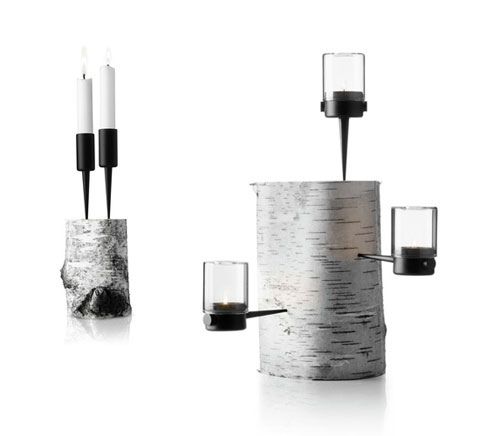 Blending indoor and outdoor spaces is one of the hottest trends in today's interior design and modern architecture; large glazed openings expand living spaces into the garden, while the use of natural materials throughout your home brings in nature in various forms.
Designed by Pernille Vea for Menu, the beautiful Pipe candleholder was inspired by Viking culture. It consists of a unique rustproof cast-iron shape with a spike on one side, which you can bang into a piece of wood, and a removable windproof glass cover, to keep your candles from blowing out. This stylish item offers the perfect indoor/outdoor mix, combining light and wood with a contemporary touch.
Available in two versions: horizontal and vertical, this beautiful item allows you to mix both tealights and candles to make your own design.
You can drive the holder into a tree trunk or wooden beam outdoors, or into a piece of firewood, door frame or tabletop indoors; there's even a small wooden block included to keep your hammer from marking the cast iron surface. Wherever you decide to place it, you can be sure it will spread a warm glow and create a relaxing atmosphere.
Available at Kaufmann Mercantile.