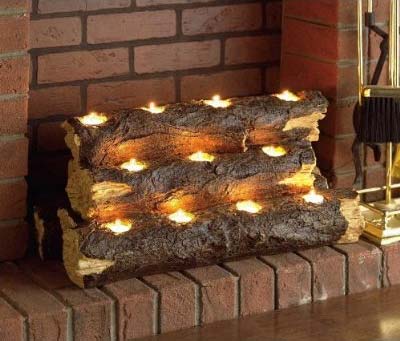 With the summer heat still beating down, it seems rather out of place to be talking about this Realistic Fireplace Log Substitute. However, the main attraction in this case is the effect and ambiance that this artificial log fire produces, rather than providing heat.
The unit is made of Polyresin, being quite large with a really authentic log look. When placed in the hearth it creates the rustic charm of a flickering fire whilst not giving off any heat, smell or smoke. The unit holds 11 tea light candles that are included in the set, which provide the natural flicker and warm, cozy light of a real log fire.
An additional innovation would be to use scented tea lights that would give off the same visual effect, together with a pleasant fragrance.
Environmentally friendly, economical, and easy to use, this fireplace log set fits into a normal fireplace, providing the beauty and ambiance of flickering flames and the great thing is there are no logs to store and no ashes to clean.
Reasonably priced and with no installation, assembly or wiring, this Realistic Fireplace Log Substitute provides instant atmosphere and compliments any home décor.
Buy This Item