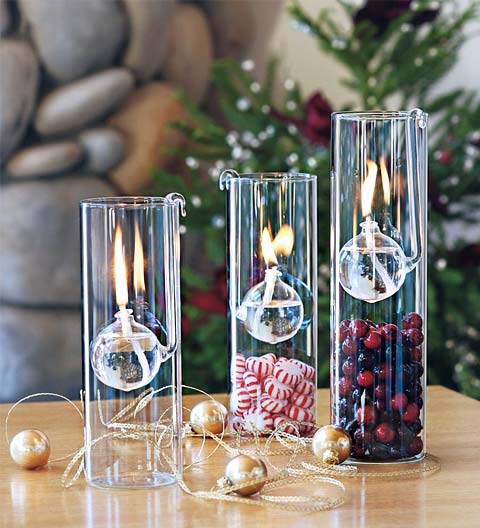 I love candles, I think that they create a wonderful atmosphere and I use them a lot either as centerpieces or as an alternative to traditional lighting. The downside of using them is when we're sitting outside and there's a breeze, or if I want to place them on a shelf or mantelpiece I always have to clear the area around the open flame.
The Wind & Weather Oil Lamps are a great alternative. These glass oil lamps feature a chamber sphere suspended from a glass rod within a glass tower. This is very clever because the tower protects the flame, which means I can use the lamps outside without them blowing out and I can also use them inside without fearing I'll set the house on fire.
The design also lets me get very creative with my decorating themes. Before I put in the sphere I fill the towers with different things, for example: pretty glass marbles that reflect the light, brown acorns, nuts and leaves for thanksgiving, festive mini Easter eggs or Christmas ornaments, seashells, colorful buttons or flower petals, the options are endless.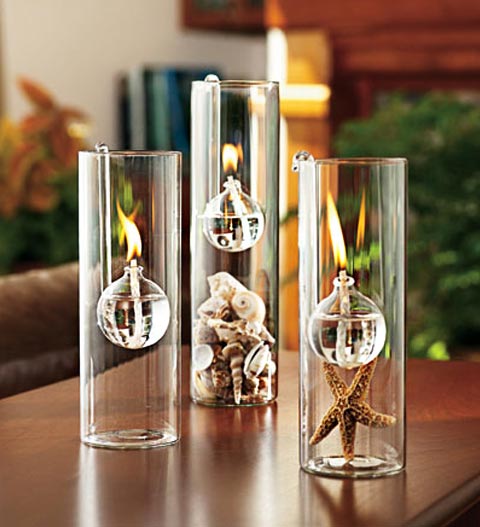 The oil lamps come in a set of three that includes two medium lamps (8″ x 2-3/4″) and one large lamp (10″ x 2-3/4″). The spheres remove for easy fill, they can burn for up to 5 hours and the set also includes a funnel and lifetime fiberglass wicks.
Each time you use the Wind & Weather Oil Lamps you get a unique, charming presentation, they make it very simple to add your personal decorating touch and create a wonderful atmosphere.
Buy This Item