Solar shingles utilize sunlight for energy. If you are a green home owner concerned about dwindling natural resources or just want to lower your utility bills, you should use Solar roof shingles.
These solar-powered shingles get installed over new or existing roof sheathing, blending almost seamlessly.
Then an electrician has to wire the units together and tie them in to your home's electrical system. Electricity is generated when the sun strikes a semiconductor layer, typically crystalline silicon, laminated to the shingle's surface.
Solar shingles enables you to generate enough electricity to power a whole house.
After sundown or in case of rainy days, you can still use your existing power lines. And if you generate more power when the sun is shining than you actually need (not uncommon in places like California and Arizona), you can sell unused watts back to the local utility for a credit.
It's a win-win situation. (Via thisoldhouse.)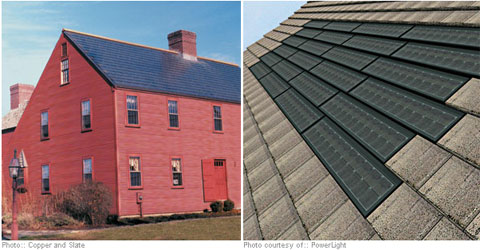 By the way, if you're into solar power or eco-friendly green homes design you might also be interested in:
A Hobbit house green home in Wales
I would love my own tree house
Outdoor solar light MagicGlobe Solar Light Sphere
Algae biofuel Greenbox
Studio Tord Boontje Petit Jardin Armchair
Sun Jar
Recharge your gadgets with Solio Solar Panels
Green homes with Eco-terric
Tree house sphere design
Solar garden lights