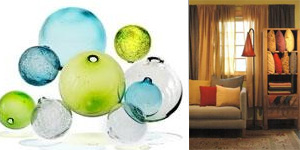 Green homes are important. It's time to 'Green' up your home with eco-friendly furnitures and organic accessories.
Green homes add value to your house, help reduce energy use and make less of an impact on the environment. It's never too late to make your home greener by using less energy and fewer natural resources, and being environmentally responsible.
Eco-terric, a San Francisco based eco-friendly furnishings and accessories store, owned by Rowena Finegan, creates beautiful, colorful and environmentally friendly living spaces using healthy materials that are kind to you, your family, the environment and are also socially responsible.
Eco-terric green homes standards of design are based on the principles of Bau-biologie, which is the study of the effect of the built environment on human health.
By the way, if you're into solar power or eco-friendly green homes design you might also be interested in:
A Hobbit house green home in Wales
I would love my own tree house
Outdoor solar light MagicGlobe Solar Light Sphere
Algae biofuel Greenbox
Studio Tord Boontje Petit Jardin Armchair
Sun Jar
Recharge your gadgets with Solio Solar Panels