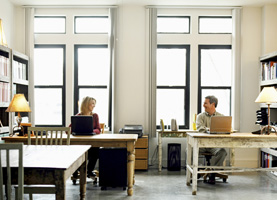 Small house design and the compact house is a part of our Interior Design Style series.
A small house is much easier to maintain and keep clean. It is also more energy efficient while integrating in the surrounding landscape. Most of the time a compact interior design will be too cramped with furniture and cluttered with small items because the owners are trying to maximize their living space, in doing so they are actually creating a feeling of a crowded busy space with no room to breath.
Tip no.1: A compact home design should be based upon the famous saying "Less is more" by Mies van der Rohe.

A small house design doesn't have to follow guidelines such as, white walls and small furniture. The challenge of designing a compact house is to achieve an airy, pleasant space to live in, while creating an illusion as if the space appears larger than it actually is. The balance created in a well designed space is very fragile. That is why you need to keep it tidy and de-cluttered.
Try using light, neutral colors on your walls, since light colors reflect the light entering the room making it brighter while expanding its size, as opposed to dark colors which absorb the light and shrink the space. Take advantage of natural light by implementing large windows and glass-paned French doors. Try using similar tones and shades of color throughout a small house to visually unite and blend the rooms, giving the illusion of a larger space.
High ceilings, crown molding, chandeliers, a ceiling fan or a vertical striped wallpaper treatment will do the trick by leading the eye upwards, creating even more space. Use the same wall treatment for the ceiling, creating one solid space instead of a divided one.
Use light-colored upholstery with pale patterns or prints for furniture, blending them into the background without confusing the eye. Use light shades on woodwork and try to maintain the same flooring throughout the house, keeping the eye wandering from room to room in a continuous manner. If you can, keep the same flooring also for the outdoor patio or deck.
Don't be impulsive while buying new furniture. Figure out the space you have relating to the amount of people in your household or the number of people you usually entertain. Use a see-through glass coffee table that will blend in, stow an ottoman for extra sitting and remember that a round dining-room table takes up less space than a rectangle one.
Decorating a small house means you need to think carefully before you make new purchases; consider the object's location in the room and how it is going to affect its surroundings. If you find furniture that can serve double duty, that's even better.
Don't be afraid of large furniture. They will add grandeur for your small house while the choice of vertical furniture or high curtains and window treatments will lead the eye upward, making the space feel larger than it is. Use them scarcely and choose them well. A few focal points are much preferable then a large number of small furniture and scattered favorite collectibles. As I mentioned before: Less is more.
Use built-ins for displaying favorite items and storage while hiding small clutter in boxes and baskets. Also, why not use the space below your staircase as a storage space or a utility room. The stairs themselves can also be used as drawers.
Present your artwork as stacks of two prints farmed with oversized white mats and thin frames. That will lead the eye up to the vertical volume of the room while creating a certain type of a luxurious, serene atmosphere.
Mirrors do magic in a compact home. They bounce back the light, reflect certain parts of the room and extend it considerably.
Simplicity in design choices is crucial in a small house. Remember this when presented with a small house design architecture plan.
By the way, if you're into compact houses or small house design tips you might also be interested in:
Kitchen design idea
Prefab home Loftcube
TomaHouse Prefab cabin Bali style
Small house design Compact Home
Small house design of Japanese Atelier Bow-Wow
Cycloc – bike storage solution