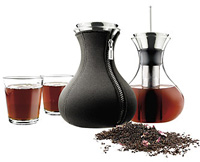 This beautiful tea maker by EVA solo is curvaceously sexy. Its rounded shape makes you want to caress it while keeping warm.
This tea brewer can make tea in two different ways, depending on whether you like tea with or without tannin. The herbal tea leaves are tipped directly into the flask and then strained off automatically when pouring.
Alternatively, tea leaves with tannin are placed in the filter holder and once brewed the plunger is fully depressed stopping the brewing process.

This tea maker, or tea brewer, features a patented filter system with a drip-free pouring lip and a flip-top lid which opens automatically when pouring.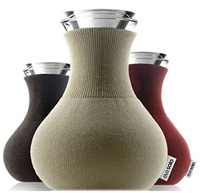 This tea maker even has tea shirt. A neoprene or colored knitwear cover, keeping the tea hot while emphasizing the flask perfect rounded shape.
The EVA solo beautiful product range is designed by tools, a Danish duo, Henrik Holbaek and Claus Jensen, who have created a long list of innovative products, many of which have been awarded nationally and internationally.