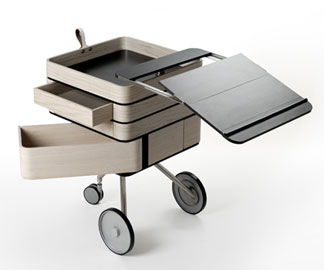 Here's another space saving solution for all you small house owners and laptop junkies who simple must have their home office near by at all times. It's called the CI Desk – a small, handy, multifunctional piece of furniture on three wheels, by Vienna-based design studio Creative Industrial Objects (CIO).
Made of plywood, leather and stainless steel, the CI Desk will follow you everywhere around the house, offering a practical, mobile working space.

The top flips open and unfolds into a small workstation while its inbuilt wooden drawers with their smooth designed contours offer great storage; they're quite versatile too, since they open both to the front and sides …How cool is that?