From sports to a traditional prince or soldier design, wooden nutcracker ornaments will make a wonderful gift for the holidays and a charming addition to any Christmas tree decor.
The unique Czar Treasures (pictured above) is one of my favorites. It's based on Tchaikovsky's Nutcracker Ballet, as well as two wooden Santa figurines – an exquisite collection of one of a kind wooden works of art that are hand-carved and hand-painted in Russia.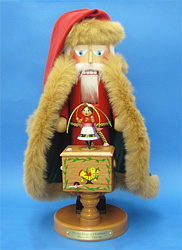 These beautifully detailed figurines originate from Germany since at least the 15th century, where handcrafted carvings like the famous Steinbach nutcrackers have become collectors' items.
Crafting a collectible, decorative nutcracker is pure art; starting with meticulously selecting and drying of the wood, which is then given to a master carver who transforms the wood block into a nutcracker, Santa or other Christmas character. Followed by a skilled artist applying layer upon layer of transparent water color and a final touch of wax, bringing the character to life with beautiful applications of paint combined with sheer precision and delicacy.
Buy This Item