When you're out in the wilderness – camping, hiking, mountain biking or white water rafting – best way to end your day is with a home cooked meal, and the best way to go about it is with a Dutch oven – an enamel or cast iron pot with lid that comes in various sizes and can be used over an open fire. What a great way to enjoy an outdoor adventure, by yourself or with friends and family, just like old times with some cowboy cooking style!
Anyone can cook with Dutch ovens; biscuits, roast beef, stews, vegetables and beans, cornbread, dump cake or peach cobbler for desert, you name it! The standard size most commonly used is an 8-quart (measures 12″ in diameter by 5″ tall), featuring the tripod legs for campfire cooking and a flanged lid for resting coals on top, which can also be flipped over to be uses as a skillet. Cast iron takes a bit longer to heat up, but the heat transfers evenly, keeping the pot hot for a long time and the food tastes excellent. The pot is safe up to 500 degrees.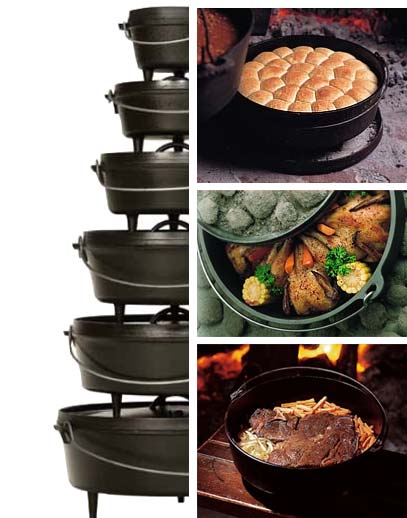 Why are these ovens being referred to as 'Dutch'?
It is believed that back in the 1600s the Dutch used dry sand to make their molds, while producing these cast metal cooking vessels, giving their pots a smoother surface.
This type of cookware has been used for hundreds of years and has passed the test of time. One of the most famous Dutch oven makers in America is Lodge Cast Iron with a wide selection of high-quality cast iron goods on the market. There are some great cooking recipes as well as accessories to be found, such as tote bags, tongs, lid lifters, lid stands, and more.
Dutch Ovens are easy to clean up with some hot water, mild soap and a plastic brush (not metal). A seasoned Dutch oven refers to the kind of glaze on the pan, and once it is properly seasoned you're ready to go. Keep in mind that it needs to stay black and a bit shiny inside, so if you do lose your seasoning due to rust or an overaggressive cleaning, simply wipe it with vegetable oil inside and out and place it in a hot oven for about 20 minutes or so, letting it cool naturally.
Buy This Item