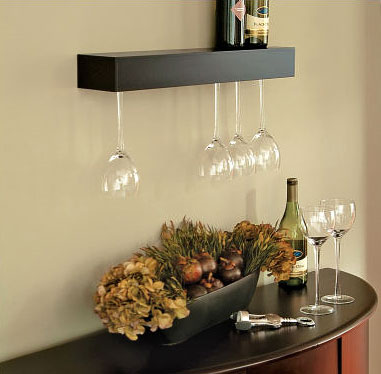 This unique floating shelf is a very attractive addition to any bar, cocktail cabinet or drinks table. Sturdily made from wood composite and finished with Java, black paint, it accommodates six wine glasses and the top doubles as a shelf that can be used to store bottles or other items up to a maximum load of 15lb.
The secret to the clean look of this shelf stems from a concealed support system that allows the unit to sit flush to the wall creating a floating effect. The two concealed wall anchors are included, together with full fixing instructions. Of course, it is possible to increase the storage capacity by installing multiple units.
The clean, crisp lines of this modern style wine shelf create a stunning effect on the wall, whilst being extremely useful as a multi functional storage unit.
Buy This Item