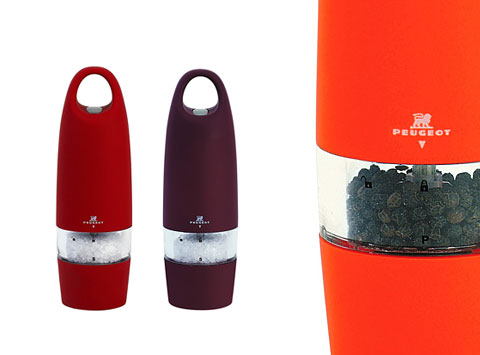 Peugeot grinding mills are renowned the world over for their quality, incredible resilience and proven reliability. Another example of Peugeot's commitment to innovation, quality and reliability is the development and refinement of their exclusive, patented u'Select grind adjustment system. It allows the user to quickly and easily adjust the grind with a simple twist of the wrist. From powdery-fine to very coarse, this system produces consistent results every time.
Chefs and gourmet cooks prefer this grinder because it is designed particularly to grind salt and pepper, deriving the best flavor and the strongest aroma from the spice. The beautiful design is modern, aesthetically pleasing and absolutely practical, looking good in the kitchen or on the dining table.
Made of case-hardened steel, it is specially treated against wear and corrosion and the double-row of helix-shaped claws grab and crack each peppercorn/sea salt, before drawing it down to the teeth for the perfect grind. The Salt/Pepper Mill is 7 inches tall with a soft-touch body and included are peppercorns or sea salt, batteries and instructions for use. There are several additional colors available, creating harmony with your kitchen décor and utensils.
Peugeot have manufactured mills since 1810 and they produce a grinder for every purpose. They make special grinders for peppercorns, coarse dry salt, chilies, herbs and spices, wet salts, and nutmeg, as well a coffee grinder which has a special mechanism for that purpose.
This beautifully designed mill makes the perfect gift for the home 'Chef' who cares about the final result in the kitchen.
Buy This Item