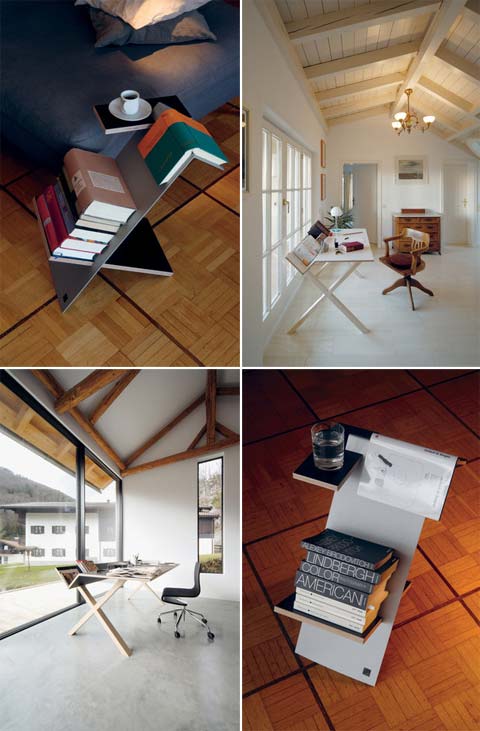 I confess, I am a bookworm. I love books and whenever I pass along a book store I simply can't resist getting just one more book for my never ending collection. 'The more the merrier' I tell myself, however as books are starting to pile in every corner of my house, the lookout for good book storage solutions is inevitable. And if you're looking for a functional item with a touch of style, like me, it becomes a not-so-easy task.
As I was browsing the web I came across two unique items for storing books, and I've decided to share them with you. The first item is called 'Liesmichl' – a stylish stand, made of Birch plywood, for stacking books and paper backs. Place it near the sofa in your living room or next to your bed, and when you need a break from reading, simply place the book on the slanted top shelf and it will be waiting for you, bookmarked, so you could continue from where you left off.
If too much reading has made you thirsty, the upper horizontal tray can conveniently carry a drinking glass. Liesmichl is available in White, Black and Red; measures 51H x 31.5W x 45.5D (cm).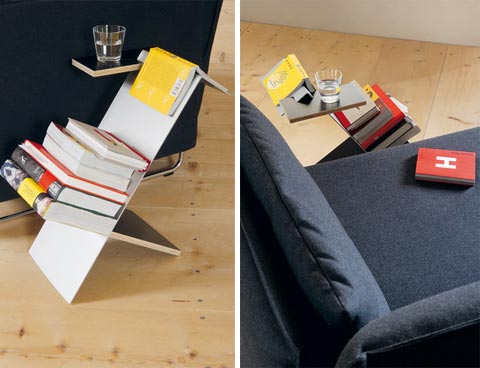 The second item is called Kant – a unique desk, also made of Birch plywood, that features a folded section at the back. This neat features serves as a place to stow and archive books and files, keeping your desk area organized and tidy and your reading material close at hand. Kant is available in different heights and sizes.