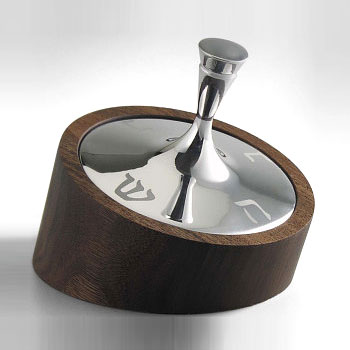 Anyone who doesn't know the story of Hanukkah misses out. It is a fabulous story, of light and darkness, about very little hope, and a lot of faith, it is a story of a miracle that happened a long time ago. This is not just a story, it's tradition, it is yet another unique chapter in the history of the Jewish people. In fact, this is a great story for the winter days, combined with the spirit of Christmas all around. Light scares away darkness, good overcomes evil – classic. One of my favorite traditions in Hanukkah is the dreidel game – so much fun, spin it and try to guess which letter it will fall on.
When I saw this beautiful dreidel by Nambe I was amazed. Designed to be admired, this dreidel is made of metal and engraved with the Hebrew letters Nun, Gimel, Hey, and Shin to symbolize the phrase, "A great miracle happened there." This refers to a remarkable occurrence during the reclaiming of the ancient Temple Jerusalem, when a single day's supply of oil burned for eight days.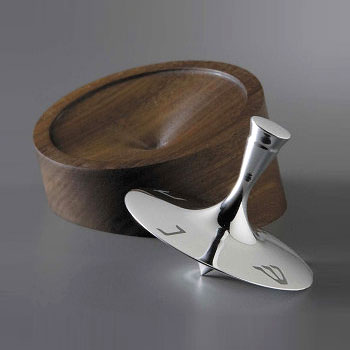 Finely polished and balanced, the dreidel comes with a handsome wood stand for display. When not admiring the dreidel, rest it back in its wooden stand. This indeed makes an exceptional gift. Come on, let's take it for a spin.
Buy This Item