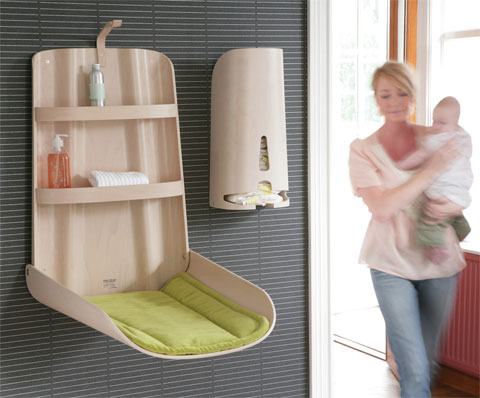 Chest drawers – Out. Nathi Changing Table – In.
Rarely do we see such a simple idea put into smart design and deliver perfect results. The Nathi Changing Table is exactly that. Requiring a minimal space, this baby changing table will not only allow you to get the dirty job done easily, it will also look good in your home.
Made of class A molded beech veneer, this exceptional changing table is to be screwed into the wall, and then folded in and out whenever you need it. It comes with a soft mattress for your baby's comfort, made of washable fabric with a filling of 30 mm polyester fiber wool, and two shelves with high protective sides for oils, creams and other handy accessories. It can also be beautifully completed with the additional Nappyrette Diaper Dispenser – an entire set, close at hand and ready-to-go changing station. Simple and easy.
The Nathi offers you a stylish changing table to decorate your home with according to your needs with a new baby in the house. The days of huge chest drawers, that take up all your space, are over; make way to the new folding changing table, with its easy and safe mechanism, that requires only one hand to operate, saving you space while looking great in your baby's nursery.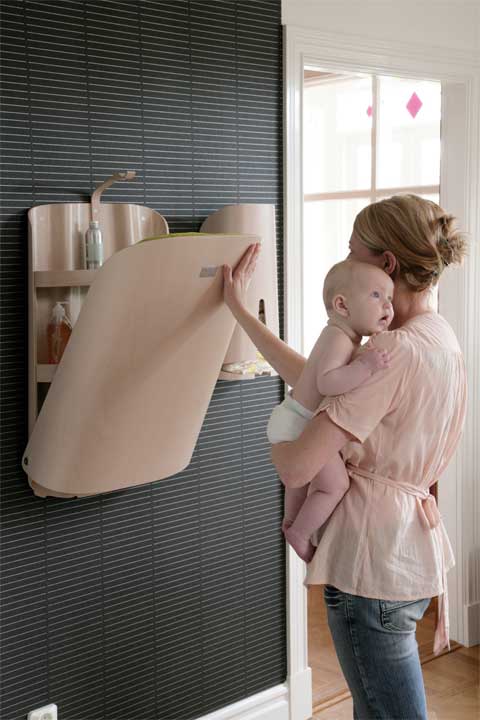 Finished in an environmental friendly lacquer, it is available in White lacquer, transparent whitewashed surface or walnut. Measures when folded: Height 870 mm. Width 520 mm. Deep 180mm; measures when opened: Height 870 mm. Width 520 mm. Deep 760 mm; weighs 6kg.