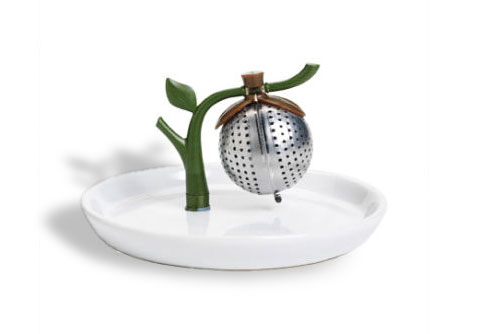 It's so nice to make a relaxing cup of tea using this unique tea strainer with a built-in saucer. A very good friend of mine has this ritual – everyday at around five o'clock she stops what she's doing and takes a tea break. I think it started when her kids were little and this was a good way to calm down and clear away the early evening blues.
She puts on a favorite CD (jazz or rock) and depending on the mood chooses her tea of the day. She has a wide selection of teas from all over the world, some with very strange flavor combinations, but all of them loose-leaf. Even though she has many tea infusers, as soon as I saw the Arta tea infuser I knew it was exactly her "cup of tea".
This tea infuser is both practical and whimsical. You fill the pod with tea leaves then place it up-side-down over a cup of hot water. The branch keeps the pod submerged as the tea infuses and the saucer serves as a lid, keeping the water hot while it steeps. Turn the saucer over and it serves to catch the tea dripping from the pod without the need to dirty another dish, and the pod detaches easily from the branch for easy cleaning after each use.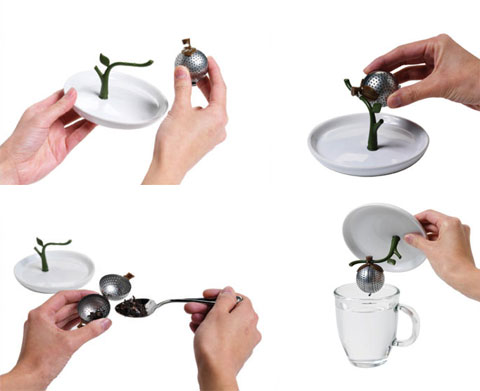 To quote my friend after she started using the Arta tea infuser + saucer: "…it has added a smile to my tea party."
• Micro-perforated stainless steel pod + ceramic saucer
• Holds up to 2 teaspoons of loose-leaf tea
• Tea pod pops off of branch for filling and cleaning
• Top-rack dishwasher safe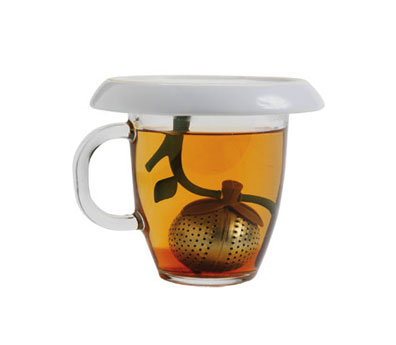 Buy This Item