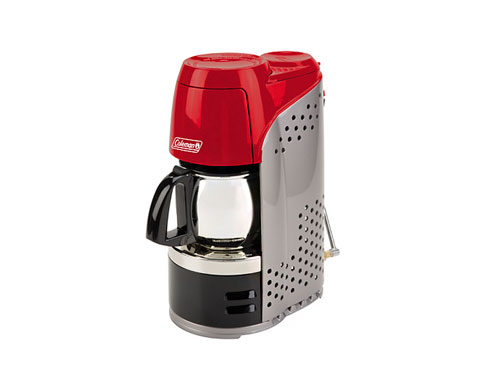 When we're traveling outdoors, there is one magic rule – we miss the "homey" things, that we can't have, the most. Coffee, for instance. Well, this portable coffeemaker, from Coleman, is a little surprise treat for our outdoorsy adventure. It delivers the best and easiest cup of coffee while camping, tailgating and beyond.
No cords, stove, or percolator required. It operates on a single standard 16.4 oz propane cylinder and it is easy to use – simply push the InstaStart auto ignition button to get the coffee brewing. Cleanup is so easy, too; the filter basket and carafe are both dishwasher-safe. The Coffeemaker is built to be easily portable and pack-able, so it's convenient to bring along. Boost yourself with a hot cup-of-joe on the go.
It is the little things that make us happy; whether it's a nice shower with fresh cold water after a long walk or the first cup of coffee first thing in the morning – being outdoors makes you appreciate the little things so much more. That's why this compact portable propane coffeemaker is exactly what you need to make sure you enjoy the small bits of life in the best possible way.
It's easy with its matchless lighting; easy-access 10-cup covered water reservoir; removable filter basket; durable, drip-resistant stainless steel carafe; and easy-access regulator connection with storage clips for when not in use. Enjoy.
Buy This Item