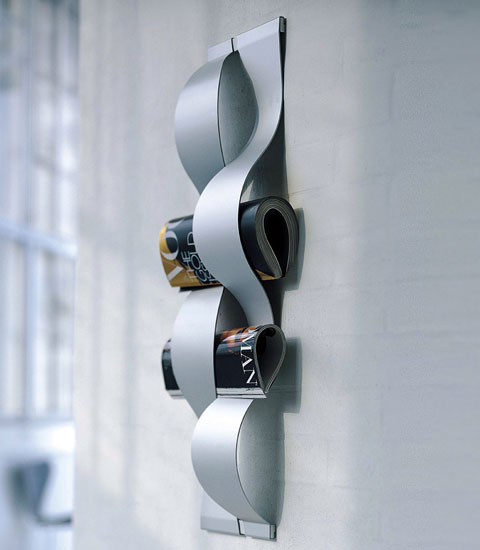 I subscribe to a few magazines, some about design, one about travel and a couple about home improvement and fashion. Once in a while I also buy magazines that catch my eye. Seeing as I don't always have the time to read them all and even those I've read I don't necessarily throw away, they seem to pile up.
For a long time now I have been trying to find a way to organize my magazines. When I saw the Rosendahl Wallpaper Magazine Rack I was really excited because I realized it was just the solution I was looking for.
Originally I had a small magazine rack, then I evolved to a large basket on the floor. The basket is nice but it has two problems, the first being that it takes up floor space and the second that it's hard to keep track which magazines I've read and which I haven't.
The Rosendahl Wallpaper Magazine Rack is a functional and stylish wall-mounted magazine rack consisting of two wave-shaped brushed anodized aluminum plates.
The rack can hold four magazines at once which is ideal for me. I now stack the magazines I want to keep in a neat pile on a shelf and the ones I haven't yet read I put in the Wallpaper Magazine Rack where they can be easily reached. In addition to being very stylish this is also very practical and has helped me clear up floor space.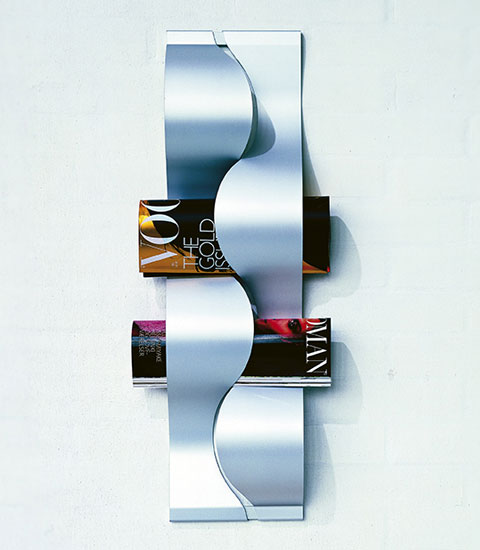 The Wallpaper Magazine Rack was designed by Maria Berntsen for Rosendahl. It's 760mm high by 200mm wide and 70mm deep and is very easy to install. With or without magazines, this space saving rack looks very smart on my wall.
Buy This Item