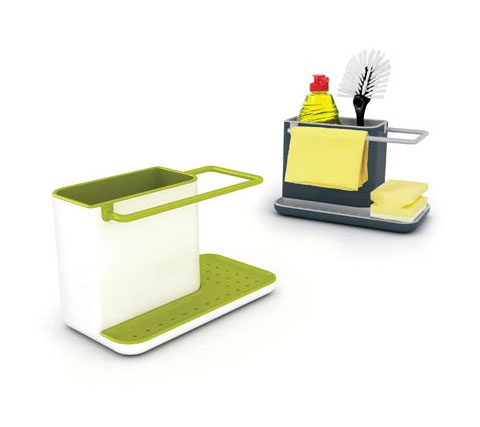 Meet Caddy by Joseph Joseph. It has come to make clutter near the sink history. Washing up liquid bottles, brushes, sponges and wet or dry dishcloths will be all happily living together under the same roof.
Sounds like a dream? Well, in this case dreams can easily and inexpensively come true. In two color combinations, a dark and light grey one and a white and fresh green one, this set of convenience provides a basket to store the liquid bottle and brush, while the wet dishcloths can be comfortably hanging from the integrated rail, getting all nice and dry.
The large draining plate within the base is going to be collecting all drops of water, which you can later pour, little sort of brilliant, right? And not to forget the sponge which can also rest there, making your whole washing up family come together. Order bliss.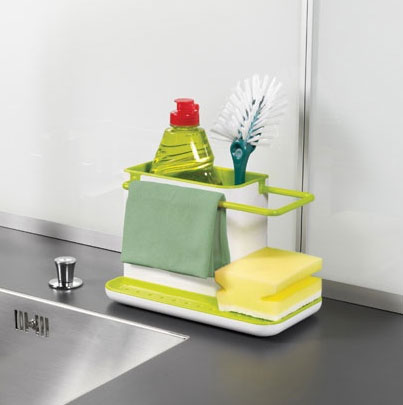 It measures 21 x 13 x 11.5 cm and I just love the fact that it is big enough to incorporate such a versatile family and small enough to not burden the kitchen's surfaces.
As for my choice? The grey one, please. Which despite its prettiness will be getting stored in the space under the sink, as not seeing anything that reminds of washing up is the way to keep me happy around our kitchen. Not until duty calls off course. Then, with one movement I'll grab everything I need and with another one I'll store everything back when finished. It's easy to make me happy, see?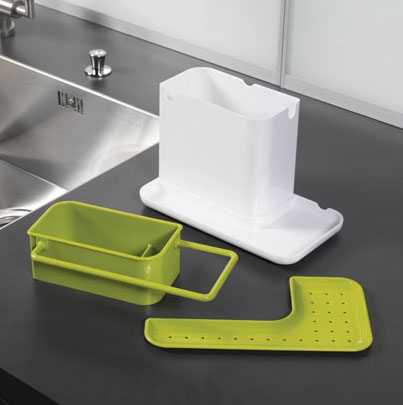 Buy This Item