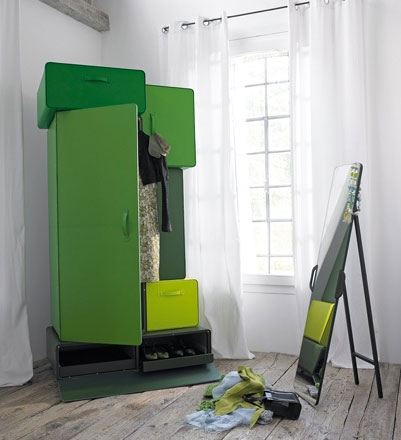 Are you perhaps charmed by the view of old suitcases, taking you back in time some decades ago when traveling seemed to be a big issue? Then it is quite possible that a modern and fresh interpretation of the stacked up on one another colorful, made of real or faux leather suitcases of the past will appeal to you, too.
Maarten de Ceulaer designed for Italian Casamania the mobile closet "Valises" using recycled leather. An inspired creation rich in poetry, it consists of six differently sized and shaped modules. Compact enough to not dominate a space with its size, its fairly generous dimensions of 118 width, 70 depth and 210 height, are designed to hold all your clothes and beloved accessories in anything but a conventional way.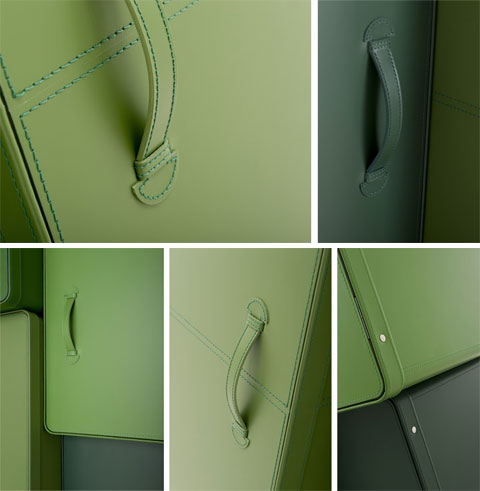 Five rectangular and one cubic modules are horizontally and vertically combined in a playful manner, expanding the play from shapes and volumes to colors as well.
Natural tones like white, cream, beige and browns found in one Valise model will suit many homes, while bolder combinations of different shades of blue would look wonderful in modern homes. Or perhaps a summer house situated somewhere in the Aegean, where white and blue are celebrated both in interiors and exteriors.
The khaki green combined with a charcoal grey seems appropriate for gentlemen as much for teenagers and I would personally love to see it situated in a room where the window offers view to a garden or simply lots of greenery.
The version of muted blue tones is my personal favorite, coming as a surprise to my usual, expected inclination to choose anything light and naturally colored. I find a perfect balance between volumes, colors, provocatively interesting design and a grounded playfulness.