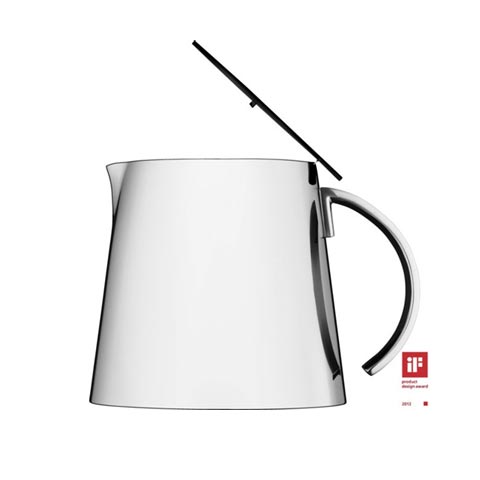 As a big fan of tea, I do a lot of water boiling at my place. I have an electric kettle that I like because of how little time it takes to boil water, but I absolutely despise the cord. Cords and wires are so disruptive, aesthetically speaking, you know? Plus, electric kettles are usually pretty bulky accessories. So sometimes I use my stove top kettle, which is much prettier, but it takes much longer to reach boiling point. If only there was something in between. Enter XO kettle by Eva Solo.
Made of a special multi layer material consisting of aluminum and stainless steel, this kettle allows for an extremely fast boiling point and can be used on any heat source. And no wires!
The handle is designed in such a way that it will always remain cool, so no need to worry about burning our hands. The kettle has a volume of 1.5 liters and is dishwasher safe with a removable lid for easy cleaning. So as far as function goes, this kettle is an absolute dream.It's also very nice to look at. With its simple form and strong materials, this kettle is super sleek, appealing to those who like things minimal and streamlined – like me. From all perspectives (form, function and material), the XO Kettle has it all.
Buy This Item