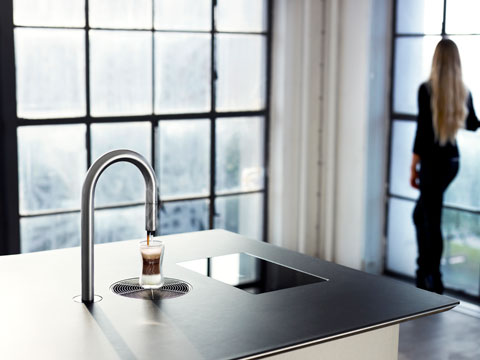 Enjoying a rather slow way of life in our current super fast, racing modern societies seems to be a trend, so being astonished by a… coffee brewing machine's speed might come as a surprise. Especially one which simultaneously aims at serving the highest possible quality coffee in the smallest division of the… minute ever!
Scanomat's Top brewer, with its breathtakingly simple sculptural design, is a revolutionary product that took countless hours to come to life, in which high efficiency and quality coexist. It marries the making of amazing different kind of coffees with details to perfection and all that in a matter of 15 or 25 seconds, depending on the kind of coffee we are talking about. A filter coffee, an espresso, a cappuccino, a latte or perhaps an Macchiato among few others.
This beautifully and brilliantly designed coffee brewer, works at its highest performance even at the busiest cafes of the city, during its busiest hours. Through an elegant tap resembling a swan neck, the finest of coffees will be made, while there is also the possibility for chocolate or even cold refreshing juices.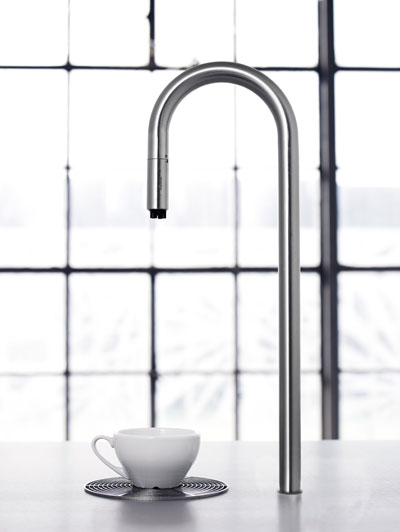 The whole system can easily be considered a piece of art, despite it being cleverly tacked away under any counter top in a sliding drawer, with super easy access for refilling. As a result, there will be multiple amount of space to be occupied by the bartenders, who will so much appreciate the fact that this system also works in favor of discreteness and low noise production. Nothing but the super elegant neck can be seen and very little can be heard while it works.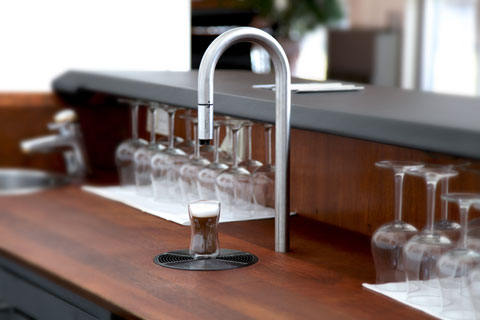 To highlight some more of its amazing features, it consists of two grinders – the reason why things can go so fast! – with an automatic fresh milk system, it has a super efficient auto cleansing system and last but not least, it can be operated by a touch screen or your smartphone. Being beyond charmed, am looking forward to finding a cafe where I could see this wondrous machine in action.
There are so many details one could go into while describing this machine and all its capabilities, but let's not forget you come here to be informed, while encouraged to visit the original sources. Scanomat's website is very detailed and informative, while easy to follow along its many technical detail.