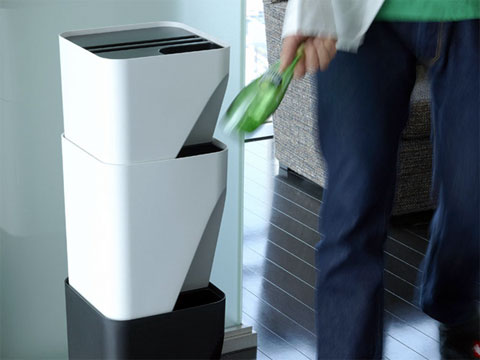 When working with clients in redesigning and decorating their spaces, let it be living ones or working ones, I'm always careful to bring forward the importance and great impact organization and practicality have on beauty. If one wishes to live in a beautiful space, the need to start from these points is primary. Purchasing and adding pretty objects to our abodes comes long after we have dealt with less appealing matters such as for example, well… waste, rubbish or else garbage.
In the best of cases, we'll chose practical and neat looking garbage bins, much like the Qualy Block, where we'll separate and store all our households waste, till transported outside our homes and working places.
Economizing on space is a critical factor of city life where spaces are not exactly super generous in size. A mostly clever way to achieve this is by making use of space vertically. Designed by Qualy, these stackable bin boxes, , come with their individual lids, are made of plastic, feature smooth curved edges, can be stacked on one another and will simply make organizing and recycling pure fun!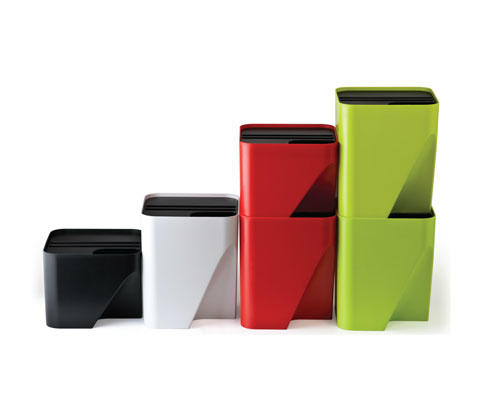 Are you wondering how can it work to throw while separating your plastic bottles from paper, glass and aluminum cans, when in fact the bins are standing on top of one another? Well, isn't this why brilliant design exists?
Take a look at the discrete but comfortable opening at one of the edges in combination with what appears like a little inside slide. With a size of 13 x 8 cm, everything can pass through it, ending up at the bottom of the correct bin.
Their width is standard measuring 25 x 25 cm, while they are offered in two different heights: 20 cm and 30 cm and altogether 5 colors: white, black, beige, lemon green and red.