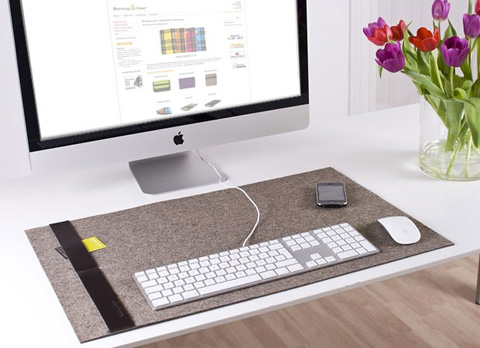 As more and more man hours in the world are spent at the desktop, we found a multifunctional mouse, keyboard (and detritus) mat to untidy workstations needing a bit of style and comfort.
The simple mat is built from Burning Love's sexy selection of thick felted 100% wool material, with contrasting visible stitching and optional leather tag strip. The clean lines and stitching ensure industrial effect kudos, but the texture also makes a workspace more inhabited and personalized. Sure your wrists will be more comfy, but you can choose your Pantone specifically – bound to please design-o's. What's more, you can choose to echo the curves of Apple hardware by choosing the king size version.
Function-wise, the Desk Pad is easy to install (!), and has the practical benefit of working excellently with the mouse. The optional leather band can be used to store the most important post and business cards, whilst the ample dimensions can also accommodate a laptop, or coffee cup families (or both, as you prefer). The King size comes with rounded edges.
This could be a suave new inhabitant of offices or kitchen workstations wherever – and if you have an odd space, Burning Love can do custom sizes.
Dimensions: Classic – 45cm x 70cm, King Size – 75cm x 75cm