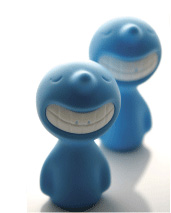 I love mr. p's set of collectible pepper salt shaker. Mr p's parents are Thailand design company "Propaganda", a group of advertising experts who recognized that something was missing from everyday products – the innate sense of Thai playfulness. "Sense of humor plays an important role here, but more importantly, the universal design".
Mr p set of collectible pepper salt shaker smiles so wide you can see holes in his teeth. Remove his dentures to feed him with salt & pepper and don't forget to dust him clean once in a while, with proper care and handling.
Check out Mr. p's different sets below, how can you not adore this guy?