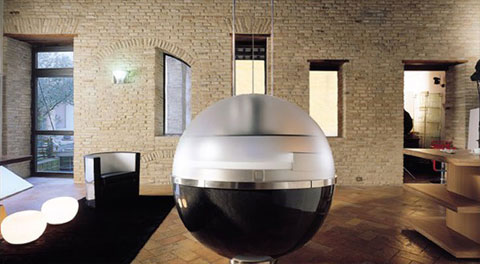 The Sheer kitchen design idea is composed of a 148 cm carbon fiber sphere. A great idea for any kitchen design and especially for the compact house or small house owner since it hardly takes up any space at all.
This kitchen design idea resembles a shiny egg or a small stylish hovering craft, very chic and elegant. The upper half of the sphere rises and attaches itself to the ceiling while also functioning as an aspirator and a lamp giving out a soft, intimate light.

The sphere can also be lowered and closed in the original position – all by remote control.
The lower half of the sphere provides room for a circular worktop, a double sink, four burners, three bottle coolers, a retractable table and trolleys.
Completing this unique kitchen design idea by Sheer is a wall unit containing kitchen appliances, cabinet space and storage, as well as four elegant folding chairs.
The Sheer kitchen sphere shape is compact as well as symbolic. It utilizes space to perfectly suit the modern lifystyle and our cooking and living necessities.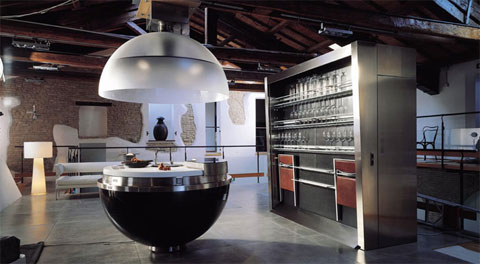 By the way, if you're into kitchen design ideas, compact houses or small house design tips you might also be interested in:
Kitchen design idea for your kitchen
Kitchen design idea Drawer Fridge
Small house design and the compact house
Prefab home Loftcube
TomaHouse Prefab cabin Bali style
Small house design Compact Home
Small house design of Japanese Atelier Bow-Wow
Cycloc – bike storage solution