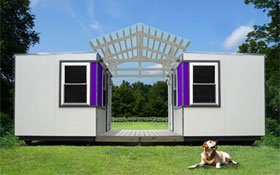 If you're looking for tiny houses or prefab homes' solutions, you'd better checkout the micro system line of products by MFINITY, headed by Carib Daniel Martin.
This line of prefab homes provides a low-cost, intelligent solution to a range of differing needs.
Consisting of modular 8ft by 12ft living units, customizable interior options, and a choice of porch styles, the microSYSTEM® can create a 100sf storage/garden shed, small home office/studio or writer's retreat, guest house/cabana, or complete residence.
With the addition of connecting porch modules, different units can be linked together to provide a sheltered boardwalk corridor from one prefab home to the next.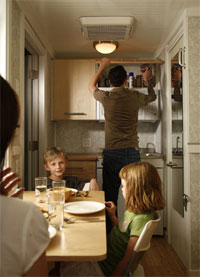 The microHOME® prefab home is a mix between a small house, a ship's cabin, and a travel trailer. It comes standard with a kitchenette, including a sink, stove, refrigerator and storage, as well as a private bathroom with a pass-thru shower and composting toilet.
"…we start with an eco-friendly design approach to all of our products. From the use of sustainable and recycled materials to low-energy fixtures and appliances to material and space efficient design, the MFINITY line of products was created to keep our world beautiful now and for generations to come."
By the way, if you're into tiny houses, small house design tips or prefab homes you might also be interested in:
Prefab home Loftcube
TomaHouse Prefab cabin Bali style
Prefab home Dwell Home Design
Prefab home DaVinci Haus
Modern prefab home by LivingHomes
Prefab outdoors modular home by ecospace
Small house design and the compact house
Kitchen design idea
Small house design Compact Home
Small house design of Japanese Atelier Bow-Wow
Cycloc – bike storage solution
Small houses design Rotor House
Small house design Single Hauz
Tiny house small house design