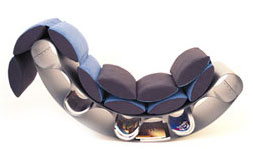 Another great idea for compact houses is the Groovy banana, an extremely useful piece of furniture for small home owners and small house interior design plans which have minimal or compact space.
The Groovy banana is in fact, a rocking couch which functions as a comfortable lounge option as well as an alternative book case.
Furnitures like these that can serve double duty are even better when considering decorating a small house. If you are the owner of a compact house and you're thinking of renovating your interior design style or just purchasing a new furniture, then it is highly advisable to consider the object's location in the room and how it is going to affect its surroundings.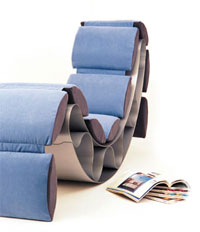 I always say, every one of us needs some middle-of-the-day lounging time, so why not crash into one of these Groovy bananas and finish that magazine/book you started reading on that last vacation. Chill out, man.
This rocking couch/book case is 97cm high X 152cm long X 50cm deep. It has been designed by Umamy – an Israeli design group located in Tel Aviv.