There is really no need to explain how fabulous this invention is- a pad upon which you can place your iPhone and it will charge automatically. IKEA designer David Wahl created two versions- an elongated pad, known as the Triple Pad, that simultaneously can charge three phones wirelessly, and the Work Lamp that consists of a single charging station located at the base of a desk lamp.
Both the Work Lamp and the Triple Pad have a USB port which lets you charge one more system the old fashioned way.
The Triple Pad is made from birch wood and easily fits into any environment- whether home or office. Its dimensions are length 12", width 5", height 1" and cord length 6' 7". Its maximum power for induction charging is 3 x 5 W and the voltage of its USB port is 5Vdc with a maximal current of 2000 mA.
The Work Lamp has an adjustable direct light that is perfect for reading. The specifications of the Work Lamp are voltage USB port: 5Vd, Current USB port: Max. 2000mA. It has a built-in LED light source with a life of approximately 25,000 hours. The lamp emits 400 lumen which is parallel to the light emitted by a 40-watt incandescent bulb, but which consumes 85% less energy. Its dimensions are: diameter 2", height 17", cord length 6'2", power 10 W.
It is important to note that the Wireless Charging Furniture isn't compatible with all iPhones. It only works with phones and devices that are Qi-certified. If your phone isn't, you need to purchase a VITAHULT wireless charging cover which bridges the technological gap.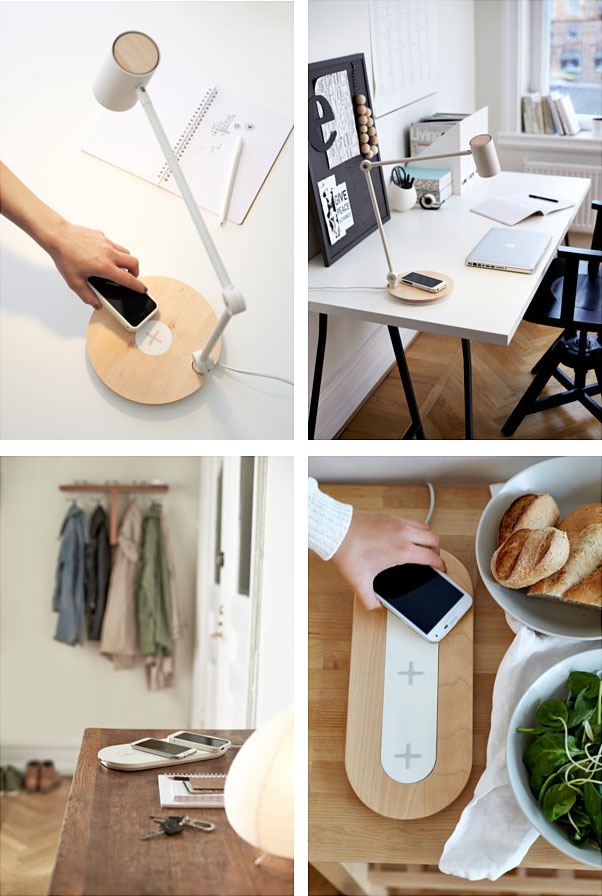 Designers: IKEA
Photography courtesy of IKEA