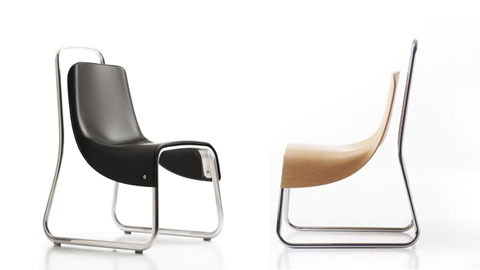 Littlebig chair, by designer Jeff Miller, is a three-dimensional, curved plywood monocoque seat with a light tubular elliptical aluminum cantilever structure. I love how the seat seems to magically hover in space, while in fact it is connected to the base only along the front edge and the top part of the aluminum structure becomes a handle.
Monocoque, meaning 'single shell' in French, is a construction technique that supports structural load by using an object's external skin as opposed to using an internal framework, which is then covered with fabric.

The formation of the piece seems clean-cut and simple despite its complex technological execution. Littlebig chair is also available in a backless version, offering a lighter and more versatile version. An elliptical aluminum handle is attached to the rear of the chassis for easy mobility.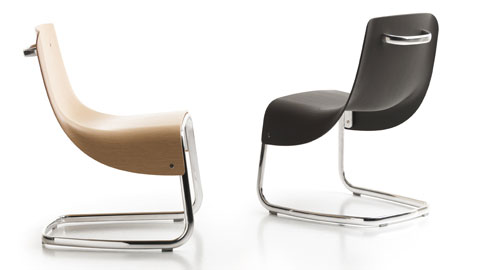 Both versions are available in polished or painted aluminum structure and oak veneer shell in bleached white, open-pore asphalt black or upholstered in leather in three colors: natural, burgundy and black.