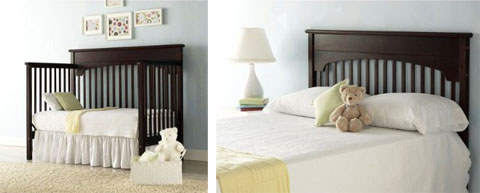 Convertible baby cribs are great if you are looking for a multi-functional piece of furniture; and who isn't? One of the hottest items on the market today is the crib that grows with the child. Nowadays, the endless array of cribs' styles and designs for your baby's bedroom is amazing.
Kids grow up so fast that you really should consider which baby crib will give you the most for your money in terms of versatility, durability, safety and last but not least, style. Some of the best convertible cribs manufacturers in the market today like Da Vinci, Child Craft, Graco, Simplicity, Sorelle and Storkcraft, offer 3 or 4 in 1 and even 5 in 1 convertible baby cribs.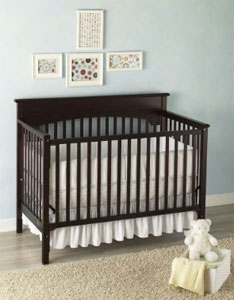 Graco Lauren Convertible 4 in 1 Crib
Balancing your budget for your new born baby's room with the ultimate fantasy room you always had in mind is not easy. That is why I love the idea of a convertible baby crib – It is, by far, the ideal in child bedroom furniture because it is so versatile. The crib can be taken apart and re-assembled as a daybed when the child becomes a toddler. The bed can then be upgraded to a twin-size with a few turns of a screwdriver and a new mattress.
In terms of budget, I always like to consider my purchases for the long run. You might spend a bit more for a new, stylish convertible baby crib (although, there are some great, discount convertible cribs to be found), but in my opinion it is well worth the extra cash. Consider how much you will save over the years. You will never have to buy a toddler bed, which can be quite expensive and it definitely won't be suitable within a year or two.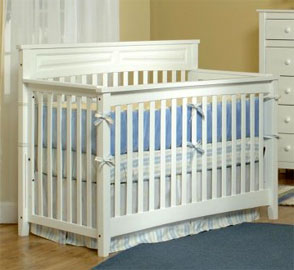 Child Craft Eastland Lifetime Convertible Crib
Best thing in convertible cribs is that they grow into a toddler daybed and eventually into a twin. Even if you'll need to buy relatively inexpensive items to match your baby crib as it grows with your little one, you will still save money for at least five or six years to come.
There are other items to consider in a child bedroom; kids need dressers and storage and in the long run all of this adds up and all of these items should match too. That is why the convertible crib is such a wonderful thing to have, meaning you won't need to purchase a whole new set for your little one as they grow bigger.