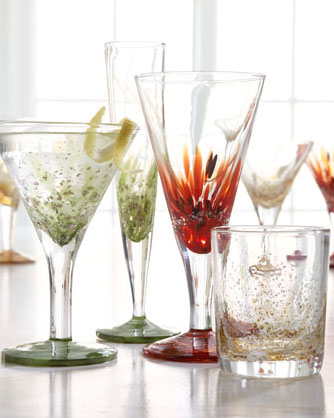 When we entertain for dinner, we're mostly worried about the dish set we're going to use, the table decoration, the map, the candles and somehow we give very little thought, if any, to the glasses. We usually end up with the all familiar "regular" wine glass. As I saw the Argento Drinkware set, designed by Julia Knight, I immediately thought to myself that this is a unique, elegant and sophisticated set, which will add to the entire decoration and will help to create the ambiance I want.
Hand-blown by artisans in Florence, Italy, and dazzled with silver and color from Murano, this gorgeous set comes in different designs and shapes for any purpose, and is dishwasher safe. Available in Saffron, Kiwi and Pomegranate; Double old-fashioned hold 8 ounces, Highballs hold 16 ounces, Cocktail glasses hold 8 ounces, Flutes hold 7 ounces, Wine glasses hold 12 ounces.
This set is also a wonderful gift to bring with you for any occasion – whether it's a birthday present, Christmas gift or simply something to take with you as not to show up empty handed. This is a unique set guaranteed to cheer up any dinner party. Cheers!