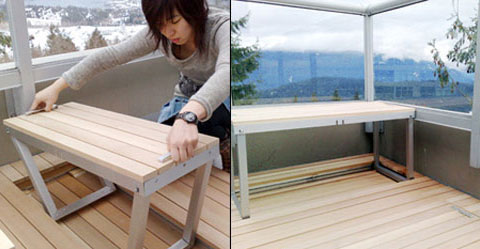 I think that "Spaceless" is a most fitting name for this unique hidden furniture concept, as Spaceless is exactly the word I use to describe a lot of the new apartments I see. Maybe it's the new building standards or maybe the fact that most of us have so many possessions or a combination of both, the fact is that I come across more and more design solutions for small spaces.
If you live in an urban apartment and are lucky enough to have a balcony, it's most probably not very big, making it hard to enjoy it. Designer Sandy Lam came up with "Spaceless" – a great idea of how to maximize the functionality of your balcony area.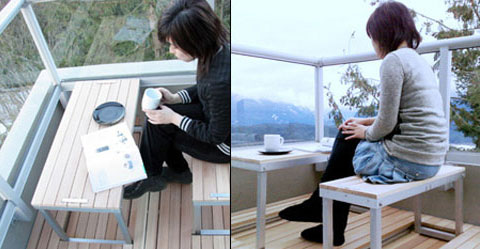 Spaceless is a combination decking system and patio furniture. When closed, you get a natural, warm wooden deck and when you want to use the furniture, you literally lift it up from the floorboards, lock it into position and you now have an additional entertaining area.
The "Spaceless" system is also very modular and easy to install. The cedar wood planks are joined with various stilts making it quick to assemble and very flexible so it fits most balcony sizes and shapes. It can be permanent or detachable so you can even lay it out on an existing floor and once you move apartments you can take it with you.
Winner of the Red Dot Design Award, "Spaceless" is such a simple and smart solution for small space balconies.