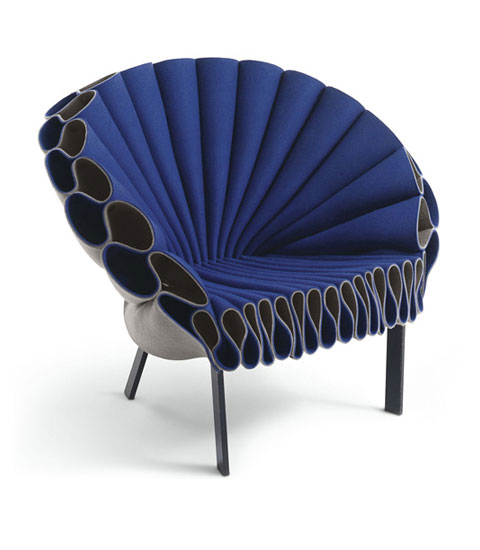 Many cultures have legends as to the origin of feltmaking. This non-woven material has been in use all over the world from nomadic tribes in Asia to manufacturers in Western Europe. As diverse as the people who use it, so are the uses for this material, from clothing and decorative items to construction, automobile manufacturing and musical instruments construction.
With the current movements recognizing the need of sustainability and in search for a healthier ecological environment, the significance of felt as an ecological textile, has led to a rise in its' use in art and design. Designer Dror Benshetrit explores the balance between art and design and creates products that are in sinc with the current ecological movements. One such creation is his Peacock chair.
The Peacock Chair is created out of a metal frame and a body of constructed felt. Using a minimalist aesthetics challenging construction, three layers of felt are intricately folded and structured to create a "fan" much like a peacocks' tail.
Dror is constantly challenging the construction of objects, questioning traditional systems and simplifying movements and mechanisms. His minimalist aesthetic is shown here in the way he challenges upholstery. The folds of the felt are woven tightly to form a structured yet incredibly comfortable lounge chair, with no sewing or upholstery involved. The intricate folding paired with the innovative method of structure create a luxurious chair that is both elegant and modern.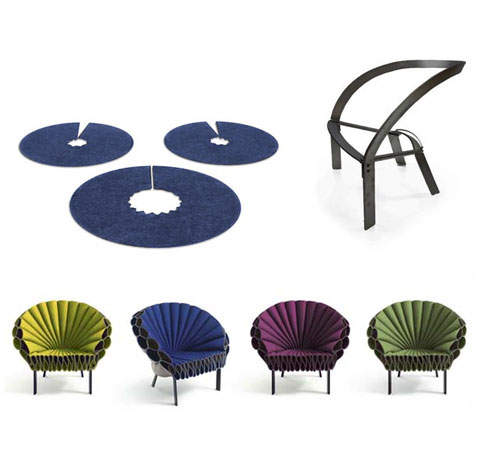 The crumpled felt sheets are available with one-color (green or blue) or double-colored (green/blue coupled with grey). The double-colored felt can be used leaving the front side with both the colored surface and the grey. The metal frame is powder varnished in dark brown.
Like the peacock, this chair struts about flaunting its' beauty and attracting attention in any setting. (This is most probably why it was chosen for Rihanna to sit on in her new "S&M" clip.)