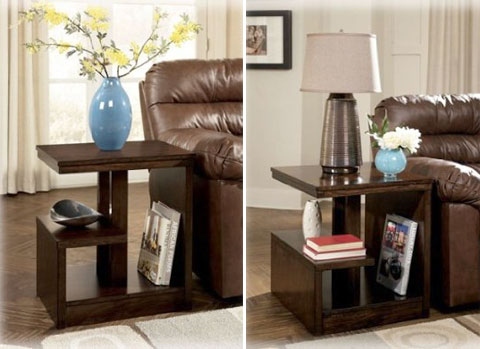 When you're decorating a room, it doesn't necessarily mean that you have to fill it with too many pieces of furniture to get the complete look. Sometimes, one piece can achieve the same effect. The Callum Chairside End Table is exactly that – A gorgeous end table designed to fit in any home decor.
The rich veneer is well covered in a dark brown finish that elegantly highlights the much unique cantilever design. With plenty of storage space and casters, this end table is as functional as it is stylish, and the best thing is it's quite compact which makes it ideal for small spaces. This elegant table may be called 'End Table' but it seems like a very good piece of furniture to begin with.
One of the most important things in contemporary design is to keep the functionality along with the style. I don't know about you, but when I sit on the couch to relax and take my mind off after a long day, I love to have a drink with me; when you have a drink, of any kind, you need to have somewhere to rest it on. This is where the Callum Chairside End Table comes in – and as far as my interior design goes I gained both functionality and style with a compact piece of furniture. Treat your home and yourself with this exciting end table, and who knows it may be just the beginning.
Buy This Item