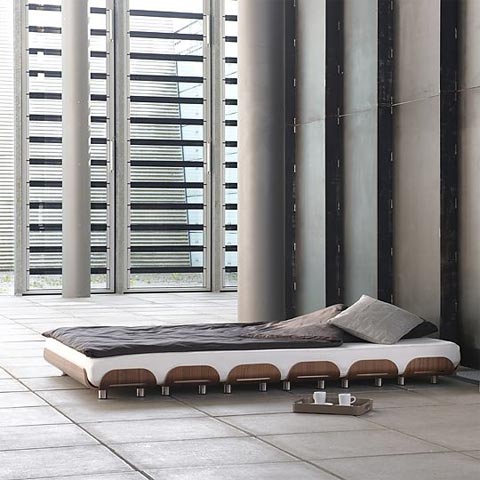 With a name like Tiefschlaf, which translates to "deep sleep" in English, I couldn't help but be intrigued by this bed from Stadt Nomaden. I think most of us are after deep, uninterrupted, rejuvenating sleep – but our conditions are not always the same. Some like a firm bed, some need a soft bed and some like it somewhere in between. The special thing about the Tiefschlaf Bed is that it can accommodate all our wishes.
The frame and support is made of six specially shaped wooden planks, that not only hold the mattress in place, but that can also be simply adjusted to provide varying levels of firmness. The individual planks are simple to connect and require just a snap of a fastener. This also means that the Tiefschlaf Bed is easy to move or transport. To control the firmness, one positions the discrete aluminum legs within the planks in varying locations. Easy peasy.
Available in walnut or white, with a head rest or without, this bed boasts a modern, minimal elegance. Thanks to its low height and discrete legs, this bed takes up a nominal amount of visual space and has a sort of floating appearance. The frame is 200 cm long, 140 cm wide and sits 16 cm from the floor.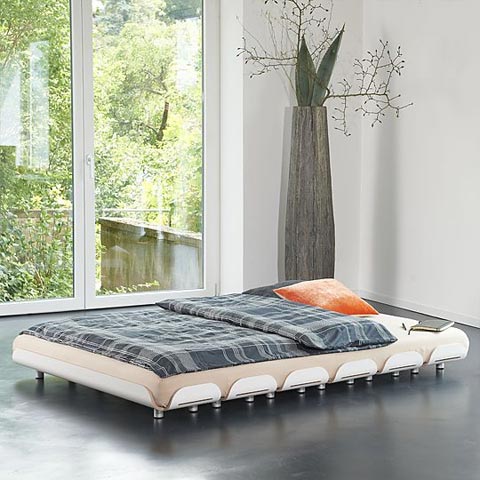 The look and design of the Tiefschlaf Bed also allows a lot of freedom when it comes to the furniture layout of your bedroom. It's nice and finished-looking from all sides, and the headrest can be positioned on any side of the bed. I can't help but envision the walnut version, without a headrest, in the center of a lofty bedroom space.