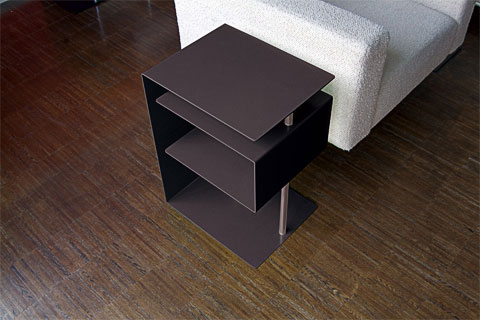 Sleek lines, ergonomics and modern charm in just one line of products: Murken Hansen's X – centric side tables available at Radius shop. Already intrigued?
X – centric and x – centric II are two side tables belonging in the same family and having everything in common, except their size. The x – centric II being almost the double of the x – centric. The first one measures 50 x 30 x 37.5 cm respectively for its height, width and depth. The latter one shares the same height and width features while the depth is doubled to 77. 5 cm.
Made from powder-coated steel and acrylic glass, these super functional and über elegant modern side tables are available in white, silver and black as much as bright tones of orange and green to satisfy every taste.
In these products where minimalistic design meets practical elegance, the highlight and brilliancy lies in the folding tablet they both feature, doubling their surface area when needed.
If you have been following my posts here, then you know how much I love white for its ability to act as a canvas upon which I can draw any "design painting" according to my mood, playing with colors and accents.
The smaller version would be just perfect for our rather medium sized living room. Favorite design books, magazines and of course my laptop can all find shelter there quite easily, while there would be enough extra surface to bring a drink and a snack along my reading and / or working process. How about you? Which one and which color would you incorporate in your living space?