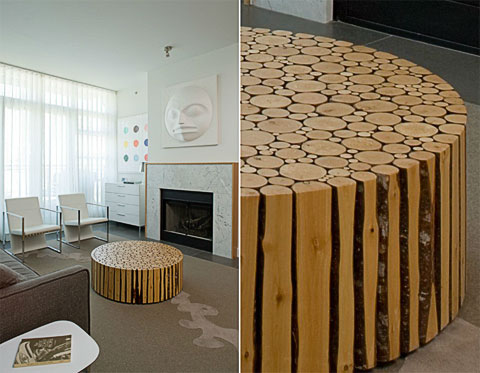 When you look at the Alder Collection by Brent Comber, you just know that these pieces have some sort of story or hold some sort of significance. The look of those unique wooden patterns created by raw, imperfect wood gives it away. Are you ready to learn more about this fabulous wood furniture collection?
Brent Comber is a landscaper and woodworker who loves walking in the forest. Fascinated by the mysteriousness of spaces between trees, he was inspired to create this collection, made of salvaged Alder wood.
The way the wooden pieces come together and the way they are dissected, reveals a truly captivating pattern. A pattern reminiscent of spaces between trees in a forest, where negative space is of interest and lightness and darkness are always playing together.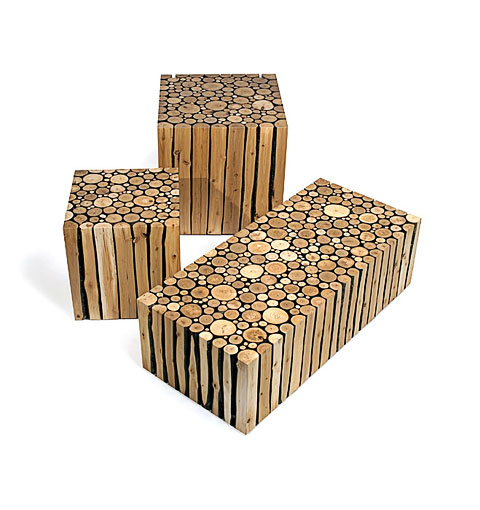 The collection is made up of the Alder Kiss, the Alder Cubes, the Alder Rounds and the Alder Saddle. The Kiss boasts the most complex design of the collection and its visual appeal is therefore highly interesting.
Measuring 18 X 18 X 28.75 inches (80lb), it can work as a pedestal or a sculpture. If you put a glass top on it, it can also serve as a dining table. You'll find that this multifunctional nature is common to all the pieces in the Adler collection. Sit on it, sit around it, place your coffee mug on it or simply admire it – you decide.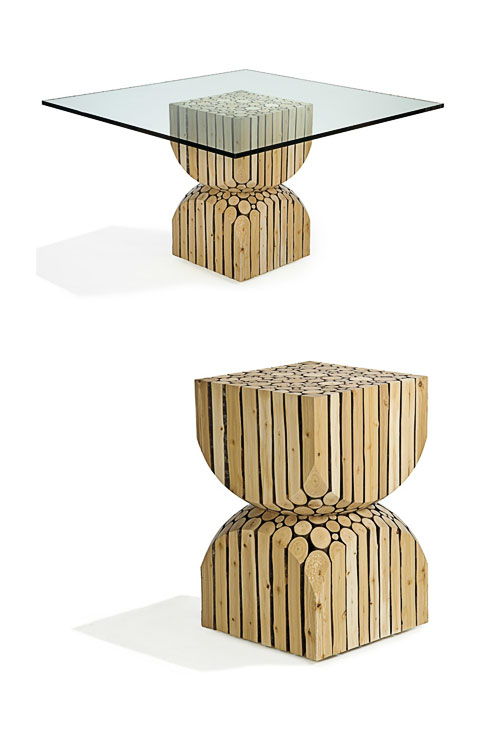 The Alder Saddle measures 15 X 60 X 18 inches (150lb). The Cubes and Rounds come in various sizes – details are on the website. The Alder Collection by Brent Comber is a highly unique and sustainable wood furniture collection that will impact any space. I'd especially love to see these raw pieces contrast some sleek modern interior spaces.