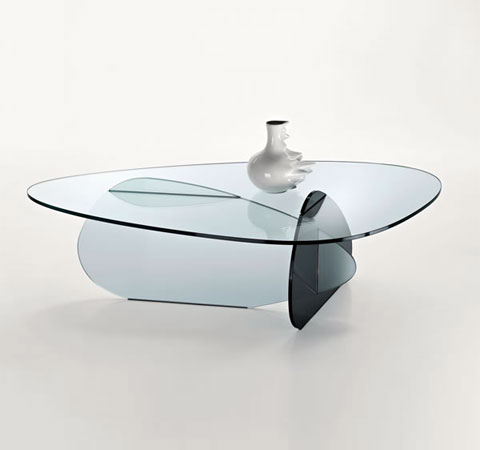 Karim Rashid certainly needs no introduction, but perhaps you haven't so far been aware of the amazing furniture he has been designing for the Italian company Tonelli. Or have you? In any case, presenting one of my favorite ones here will encourage you to find out more about this magnificent cooperation.
Spot light on "Kat" – a coffee table exclusively made from three different types of glass, which as their name implies, they… cut into each other. Do they really? Well of course they don't! This is exactly where the design's greatness lies. A perfect fit for in fact six pieces of glass, which appear as they are three, interconnected with one another. Captivating to the least!
Three glass plates that optically seem to cross each other. Two vertical ones and a horizontal one, offering a generous surface to serve every need in the living room. What particularly fascinates me, is the antithesis created between what is a very powerful design and the very organic shape of curved triangles of various types. An overall floating feeling is created, emphasized by the play of transparent, frosted and smoked glass.
This table will be able to hold 30 kg while it weights itself another 37kg. It measures 88 x 63 x 36 cm and the glass thickness is 12 mm. It is obviously designed to last, serving its duties while pleasing our aesthetics.