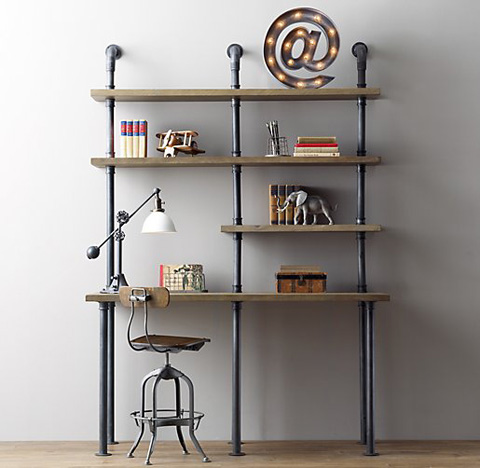 It is most likely that you have noticed the clever uses study steel pipes can have incorporated in design lately. They act mostly as support to keeping shelving and working surfaces in position. How do you like that? I find it a very welcoming alternative to floating shelves or just plain shelves secured on the walls with brackets. This Industrial Pipe Desk & Shelving unit is a great example. A piece that can be easily mixed in various styles other than obviously incorporated in an industrial look.
The sturdy steel pipes in antique finish and matching cast fittings at the joints serve as the structure for the hardworking pieces, with warm wood planks in a weathered finish providing support for the books and the work space.
All wood is smooth, however it features slightly worn edges in order to evoke a feel of age. As for the adjustment, it bolts securely into the wall at the top, while the screws at the base are faux, serving only optical and decorative purposes. So, there is no need to worry about ruining your beautiful floors!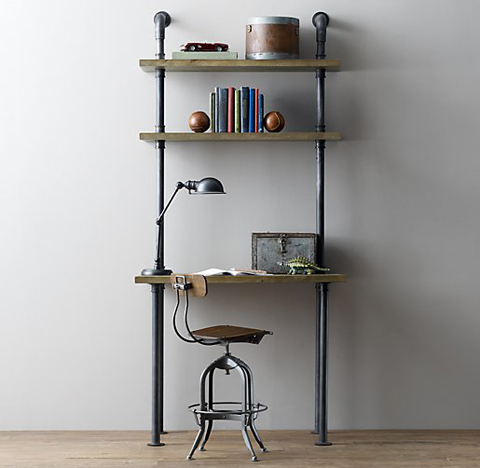 This unit measures 57 inches in width, 26 in depth and 80 in height. It is available in four configurations: shelving, single desk with two shelves above, single desk with two shelves above and solid shelving to the right or left and double desk with two shelves above and shelving in the middle that can also be positioned on either side. Just choose the one that suits your space best.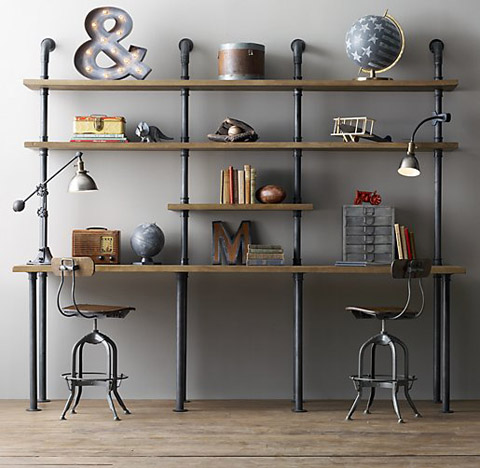 Photography: Via Restoration Hardware