The Tiles Chair by Danish furniture designer Jonas Sondergaard Nielsen is an incredible piece of furniture that reflects true creativity and out-of-the-box thinking. The Chair was first presented in the Greenhouse of the Stockholm Furniture Fair 2014 where it received great attention. Nielsen sought to redefine sitting comfort and created a chair that adjusts itself like no other to the curvature of the person sitting in it. He investigated different forms and concluded that the diamond shape is the best shape since it facilitates the necessary flexibility and also provides strength and comfort. The result is a beautifully designed piece that is a real show stopper.
The tiles are made from American walnut. On the front, the tiles are upholstered with dark grey wool. In between the tiles and the upholstery is a strong fabric that holds the tiles together and provides added flexibility. The fabric functions like a hinge- when a person sits in the chair, the fabric gently moves the entire construction to adjust to the shape of the person sitting in it.
On the back, the walnut tiles are covered with a veneer and the diamond puzzle which they create adds to the chair's charm and sophistication. Finally, the Chair is mounted on a steel base. The base has a very minimalist design which keeps the focus on the diamonds and the richness of the Chair.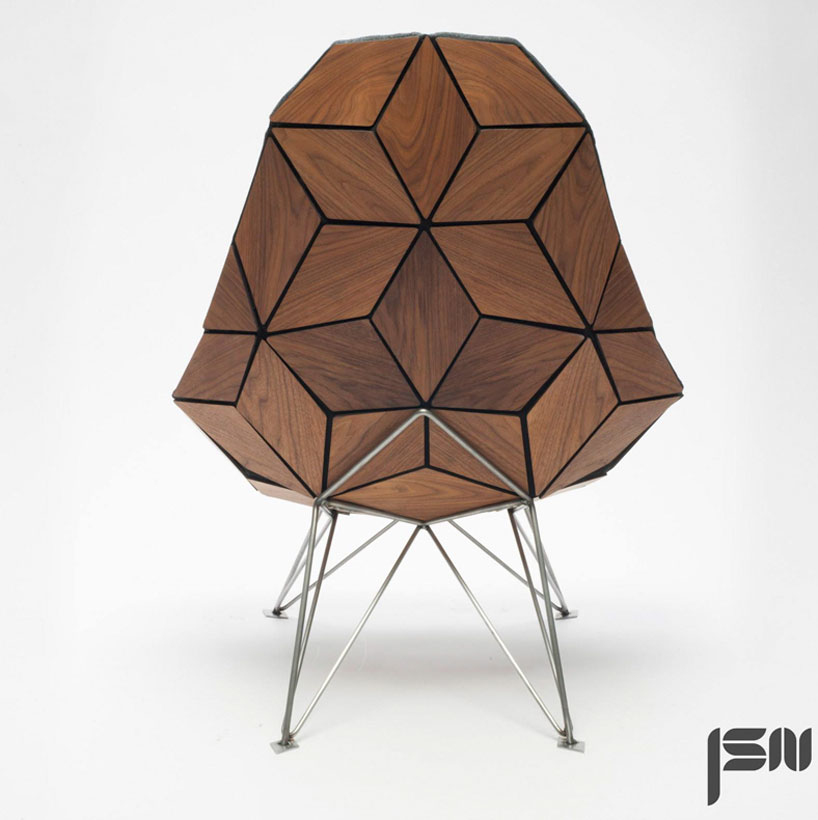 Designers: JSNdesign
Photography courtesy of Jonas Søndergaard Nielsen