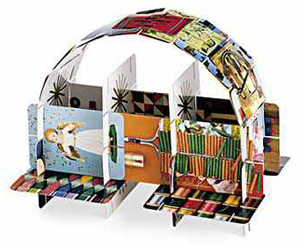 Charles and Ray Eames, two of the most great designers of America's twentieth century and beyond, who are responsible for the famous lounge chair and ottoman, the low side chair and so much more, are also responsible for this beautiful work of modern art picture-card decks.
Surely you're not thinking to yourself "hey, picture cards are for kids, not adults." I mean, how can you resist from browsing through a picture card deck like this presenting these beautiful and imaginative prints?


And it does'nt end here, you can also play with them and build stuff. Each card from the Charles and Ray Eames picture-card deck has six slots on each side so you can lock and assemble your very own palace of pictures. Each striking card depicts a different, familiar object from the animal, mineral, or vegetable kingdoms, brought to you by the Museum of Modern Art's (MoMA) design collection.
By the way, if you're interested in Charles Eames you might also be interested in our luxury brand website design tips from our webdesign tips series.