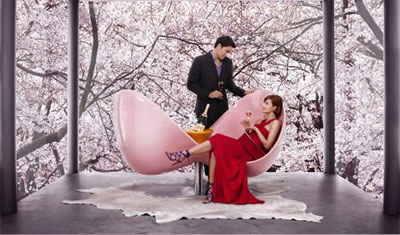 Veuve Clicquot, which was founded in 1772 by Philippe Clicquot-Muiron, played an important role in establishing champagne as the beverage of choice of European nobility and the wealthy bourgeoisie. Veuve Clicquot Ponsardin is a brand of champagne, easily recognized by its distinctive bright yellow bottle labels. In case you were wondering, the correct Veuve Clicquot pronunciation is vuhv klee-KOH.

This brings us to introduce the first piece of furniture to bear the famous label: The Veuve Clicquot Loveseat by Karim Rashid. The Veuve Clicquot Loveseat resembles two huge flower petals joined together on a chrome-platted pedestal. It will bring a splash of intense rose color to any living room, as well as deliciously curvaceous contours and a meticulous attention to details.
Karim Rashid is a contemporary thinker and industrial designer, who created over 2000 designs, from interiors to fashion, furniture and more. "Pink means an extravaganza of energy, beauty and a positive love of life. The Loveseat is a festive bubbly celebration of a great pink champagne, my favourite…Veuve Clicquot." says Rashid.
The Veuve Clicquot Loveseat represents a truly original special form of entertaining blended with sheer elegance and refinement.